I can hardly believe it has been over a year since I last posted. Each month has gone by so quickly, it's hard to believe Christmas is just around the corner. I haven't been baking as much as I would like, but I hope to change that next year! So anyways, on to these bars!
These rocky road brownies are fudgy, dense, moist and packed with chocolate flavor. The peanuts added a delicious crunch and that hint of salt that pairs and contrasts so perfectly with chocolate. I was really skeptical about their consistency even after taking them out of the oven. It seemed like they were severely underbaked and I doubted that they would even hold together as squares but once they cooled fully, overnight, they were amazing! If you make this recipe, bake it with faith that they will set up in the end :)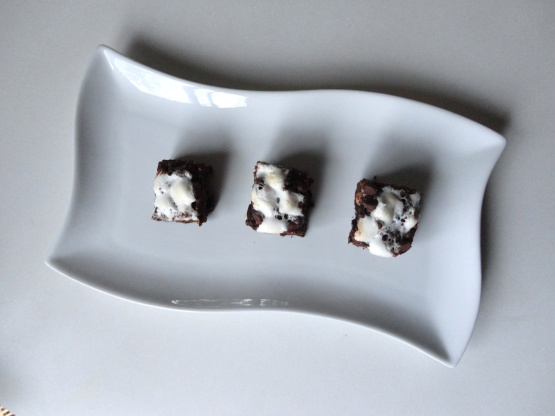 Rocky Road Fudge Brownies
9 x 13" pan | adapted from King Arthur Flour Cookie Compation
1 2/3 cup all purpose flour
1/3 cup Dutch processed cocoa powder
2 tsp baking powder
1/2 tsp salt
1 cup butter, softened at room temp
1/2 cup dark brown sugar
1/2 granulated sugar
2 large eggs
1 tsp vanilla extract
3 cups semisweet chocolate chips, divided
1 cup salted peanuts
1 - 2 cups miniature marshmallows
DIRECTIONS:
1. Preheat oven to 350F. Lightly butter a 9×13 inch pan (or line with parchment).
2. Sift together flour, cocoa, baking powder and salt. Set aside. Cream butter and both sugars until combined. Beat in eggs and vanilla. Stir in the flour mixture, 2 cups chocolate chips and peanuts.
3. Pat the dough into your prepared pan. Bake for 15-20 minutes until the edges are set but still soft in the center. Sprinkle with remaining 1 cup chocolate chips and then marshmallows. Bake about 5-10 minutes more. Allow bars to cool completely before cutting. This is very important as they will be too gooey to cut if not cooled completely first. Ovenight is best I have found.