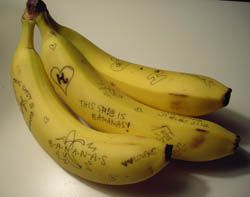 I was going through my really old Photobucket account and came across this picture. I decorated these bananas in Gwen Stefani's Harajuku style as part of a Christmas gift for my sister (who is Gwen-obsessed). Remember that song, "This shit is Bananas, B-A-N-A-N-A-S" from a few years ago?
Well, I drew all the little Harajuku symbols on these bananas and put them in a gift bag alongside the "real" gift which was a make-up case with little bananas on it. She thought they were adorable and those bananas sat on her desk until they started to go black and I had to steal them from her to make banana bread. If you into fashion, check out my sister's blog: China Doll. I wish I were even half as artistic and talented as she is. When it comes to style, make-up/hair, fashion, etc. she just has a nose for what's hot and a knack for putting together amazing outfits. She's the first person I go to when I'm not sure what to wear. It also helps that I have easy access to her closet so I can "borrow" outfits.
Okay, enough chatter. On to today's real entry. This week's Dorie-recipe was chosen by Mary of The Food Librarian. I am so impressed by this recipe. I, like most home bakers, have a go-to banana bread recipe. I didn't think any recipe could take the place of this 'gold standard' recipe in my books, but I must say, I was wowed by this Classic Banana Bundt Cake. It uses butter and sour cream unlike my original recipe which uses oil. My whole family was wowed by the moist texture, intense banana flavor and crisp yet chewy crust all around. I even caught my father sneaking a second piece and slicing off a big piece the next morning for breakfast. He is the pickiest person when it comes to baked goods, so it's gotta be damn good for him to want seconds.
*TIP* re: Bananas
Bake the bananas (skin and all) at 300 degrees F or lower for about 10-20 minutes or until skins blacken. This is to soften them, ripen them and bring out even more sweetness and to make them super-easy to slip out of their skins and mash. Sometimes they get so soft and wonderful that I can just cut the top off and squeeze out the banana.
I highly recommend that you
1) Buy Dorie's book, Baking: From My Home to Yours
2) Join us at the Tuesdays with Dorie baking group. We rock!
Classic Banana Bundt Cake
Makes one 10" Bundt | Baking: From My Home to Yours
3 cups all-purpose flour
2 teaspoons baking soda
1/2 teaspoon salt
1 cup unsalted butter, at room temperature
2 cups sugar
2 teaspoons pure vanilla extract
2 large eggs, preferably at room temperature
1 3/4 cups (approx. 4 large) very ripe bananas, mashed
1 cup sour cream or plain yogurt

Center a rack in the oven and preheat to 350 degrees F. Generously grease a 10-inch (12 cup) Bundt pan. Don't place the pan on a baking sheet - you want the oven's heat to circulate through the Bundt's inner tube.

Whisk the flour, baking soda and salt together.

Working with a stand mixer, preferably fitted with a paddle attachment, or with a hand mixer in a large bowl, beat the butter until creamy. Add the sugar and beat at medium speed until pale and fluffy. Beat in the vanilla, then add the eggs one at a time, beating for about 1 minute after each egg goes in. Reduce the mixer speed to low and mix in the bananas. Mix in half the dry ingredients, all the sour cream and then the rest of the flour mixture. Scrape the batter into the pan, rap the pan on the counter to debubble the batter and smooth the top.

Bake for 65 to 75 minutes, or until a thin knife inserted deep into the center of the cake comes out clean. Check the cake after about 30 minutes - if it is browning too quickly, cover it loosely with a foil tent. Transfer the cake to a rack and cool for 10 minutes before unmolding onto the rack to cool to room temperature.