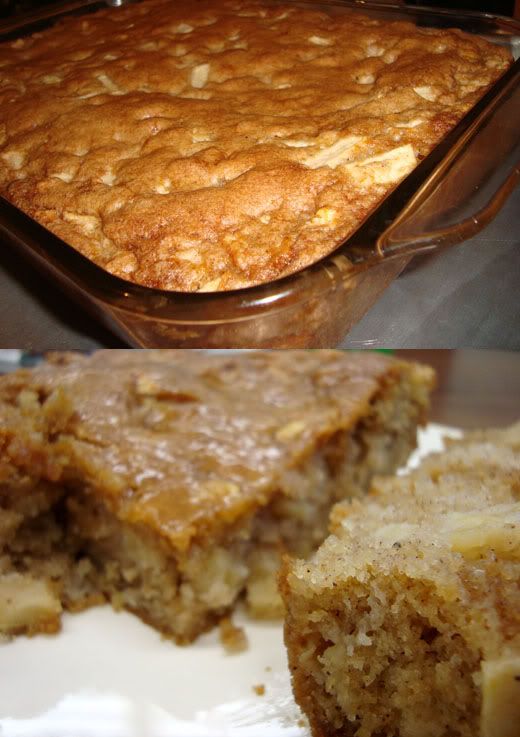 The pressure is on! One of my mom's colleagues wants to pay me to do her Christmas baking as she's having a lot of visitors over this year and hates baking. She has no idea what cookies/cakes or how much she'll need. I'm totally hanging here - HELP!!! I need your input. Should I stick to the classics like shortbread and gingerbread? Do you have any recipe suggestions? How should I determine what to charge? Right now I'm thinking of putting together a list of favorites and letting her pick from there or use it as a jump-off point for her to give me some direction.
Now, on to the cake: This is a lightning fast cake to put together. It is a very moist cake (it uses 4 apples!) that tastes just like pie but I like to think it's a little healthier :)
The cake is great on its own but the caramel topping pushes it right over the top - tartness from the apples playing off the decadence of the caramel.
The sugar in the cake caramelizes during baking and gives the cake topping a little crunch. I used 4 different apples: granny smith, gala, mcintosh and spartan, for an added dimsnaion of taste.
Variation: serve hot with vanilla ice cream and drizzle the caramel sauce on top of the ice cream.
Caramel Glazed Apple Pie Cake
Makes 9" x 13" pan
1 cup vegetabile oil
2 cups sugar
2 eggs
2 1/2 cups flour
2 tsp baking powder
1 tsp baking soda
1/2 tsp salt
1 tsp cinnamon
1 tsp nutmeg
4 medium apples, diced small
1 cup caramel sauce or sundae topping (Don't used melted down caramels here or it will be too hard when cooled)
1 tbsp cornstarch or flour
1. Preheat oven to 350F. Grease a 9x13" cake pan.
2. With a mixer beat to combine oil, sugar and eggs.Mix together dry ingredients in a separate bowl then add to wet ingredients. Mix just to combine - it will be thick.
3. Stir in apples and pour into prepared baking pan. Bake for 45-60 minutes or until deep golden brown on top and starts to pull away from sides of the pan.
4. Cool on wire rack in pan. Combine caramel sauce with flour/cornstarch and pour over cake, spreading evenly. It will melt into the cake, filling it with sweet, caramelly goodness.