The shortbread cookie is a favorite in my house. What can I say, they love butter! My son could eat it off a spoon if I let him (which I don't). Because it's so well loved I have at least 25 recipes for shortbread, each one claiming to be "the best". It comes from Nancy Silverton's cookbook called
Pastries from La Brea Bakery
. I was going to skip it until I read her little blurb before the recipe which said basically that: don't skip this recipe just because you think you have enough shortbread recipes. She claims hers is better than all the rest. AND SHE'S RIGHT!!!
The dough is so easy to manage. I did the whole thing in my mixer, refrigerated it overnight and it baked up beautifully, filling my house with the sweet smell of butter. I think the icing sugar is the key to this recipe. I especially like that it doesn't call for corn starch like many other shortbread recipes do.
Some recipes are too crumbly to roll and cut while others are rollable but too moist, losing their flakiness. This one has the best of both worlds. You could easily roll it and cut out shapes or just do as I did - be lazy and make bars. Just let the dough sit on the counter for 10-15 minutes after you take it out of the fridge so it's easier to roll out.
There are some real gems in Nancy's book, such as this recipe and the one for her cinnamon buns - made using a croissant dough. OMG they are to die for.I have a few others bookmarked too for future baking. However, the book lacks pictures and is a little pricier considering how thin it is. Hmmm... quality over quantity? I only wish I had known about her bakery on La Brea Street, L.A. I went to California back in May. I even remember walking on that street! Now looking back I'm kicking myself for missing the chance to try one of her pastries.
Best-Ever Shortbread
20 fingers | Nancy Silverton of La Brea
1 cup unsalted butter
1/4 cup icing sugar
1/4 cup granulated sugar
2 cups flour
1/4 tsp salt
In a mixer (with the paddle attachment) cream together butter and sugars.
Combine flour and salt in a separate bowl. Gradually add into butter mixture on low. It should eventually come together into one ball. Turn out onto counter and roll into a ball. Saran wrap it and chill overnight.
The next day, remove from fridge and let sit for 15 minutes before rolling and cutting. (Preheat oven to 350 degrees F.
Roll out to 3/8" thick and cut into shapes or bars. Bake for 15 minutes then reduce heat to 300 degrees F and bake for another 15-20 minutes or until light golden brown around the edges.
Store airtight.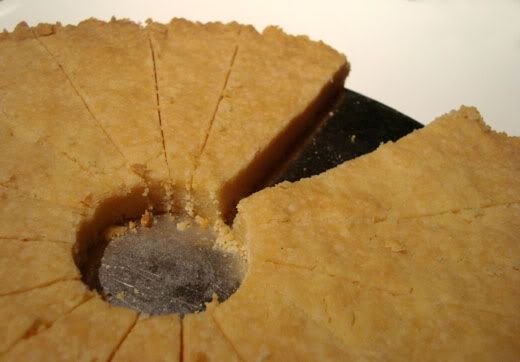 I got this tip from Cooks Illustrated and it works wonderfully!
When making shortbread (or other cookies) in a round pan, use a small 1" cookie cutter to cut out a circle in the centre of the pan.
This helps avoid the tips of the cookie wedges from crumbling in the centre of the pan when they are cut.