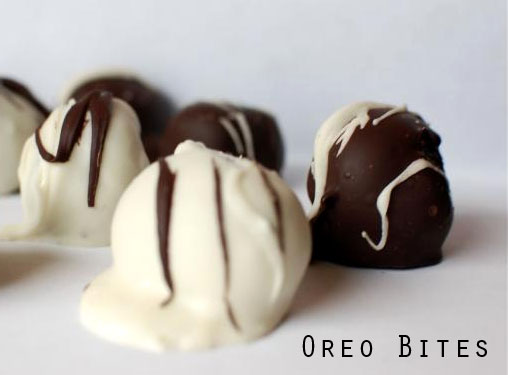 We have just over 2 weeks to go until Christmas! This weekend coming up is the last shopping weekend. I am starting to panic about all the stuff I still have to do. I have not baked a single Christmas cookie this year, nor have we done a gingerbread house. I feel guilty about slacking - never before have I left it to this late - but somehow this year feels busier than before.
It's a good thing these adorable Oreo bites are so simple and non-time-consuming. I love how cute they are too. I made them with my 4-year old. He had a blast crushing the cookies with a rolling pin in a Zip-lock bag. You can create a million different varieties by using different cookies instead of Oreos. I also like Nutter Butters! For a more festive touch of color you could use colored melting wafers for dipping instead of chocolate.
Oreo Truffle Bites
Makes approximately 42
1 (16 ounce) pkg Oreo Cookies
1 (8 oz.) brick cream cheese, softened
8 oz semisweet chocolate, melted
8 oz white chocolate or white almond bark, melted
Sprinkles, Nuts, Etc. (for decorating)
1. Remove 9 of the cookies from the package. You will not need these. Crush remaining 36 cookies to fine crumbs (in food processor or in a ziplock bag with a rolling pin). Place crumbs in medium bowl. Add cream cheese; mix until well blended. Roll cookie mixture into 42 balls, about 1" in diameter.
2. Dip balls in melted chocolate; place on wax paper-covered baking sheet. Do some in white and some in the dark chocolate. Decorate as you wish, with sprinkles or roll in chopped nuts or drizzled with the opposite chocolate color. Any leftover chocolate can be stored at room temperature for another use.
3. Refrigerate until firm, about 1 hour. Store covered in refrigerator.