The original recipe for Blueberries and Cream Mall Muffins comes from Marcy Goldman. It seems like anyone who has tried Marcy's recipes loves them. I sometimes wonder why she isn't more famous especially since her recipes are solid and simple. Her website betterbaking.com charges a small fee per recipe or you can check out her books:
Best of Betterbaking.com
and a
Passion for Baking
.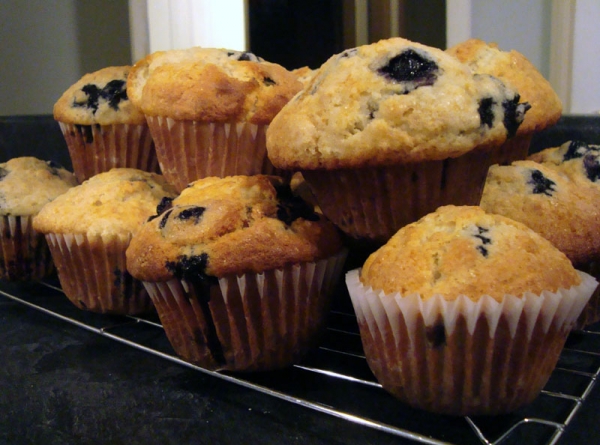 These are gorgeous muffins that stand proud and tall. The blueberries are evenly distributed through the muffin with no sinkage to the bottom of the tin. The lemon extract gives it a certain brightness but you can just as easily omit it.
I will go so far as to say that this is my favorite blueberry muffin recipe. After years of searching and baking and eating blueberry muffins, this is it. When I first read this recipe I was surprised by the 425 degree F oven temperature, but it's only for the first 15 minutes so the initial blast of heat gets them to rise. Then you reduce it to 350 degrees F. You can prepare this batter by hand to avoid over mixing and to save on dirty dishes too.
My recommendations for next time:
-Increase sugar to 2 1/2 cups. They were good but not very sweet muffins as is.
-Sprinkle with some granulated sugar before baking.
Blueberries and Cream Mall Muffins
Makes 18 | A Passion for Baking
2 1/4 cups sugar
1/2 cup vegetable oil
1/2 cup butter, melted
4 large eggs
1 tablespoon vanilla
1/2 teaspoon each lemon and orange extract (optional)
5 cups all purpose flour
1 tablespoon baking powder
1/4 teaspoon baking soda
1/2 teaspoon salt
1 cup buttermilk
1/2 cup sour cream (I used yogurt)
2 cups blueberries
1. Preheat oven to 425 degrees F. Line 18-24 muffin tins.
2. Combine sugar with oil and butter. Fold in 4 cups flour, baking powder, baking soda, and salt. Blend a little, then add in buttermilk and sour cream. Batter should be thick; if not, add more flour.
3. Fold in berries with a spatula. Fill muffin cups as much as possible (heaping high above the cup). Mine were heaped and nothing spilled during baking.
4. Bake for 15 minutes then reduce temperature to 350 degrees F and bake until muffins are golden brown and spring back when gently pressed with fingertips (about 12-16 minutes more). Cool in pans for 5 minutes.