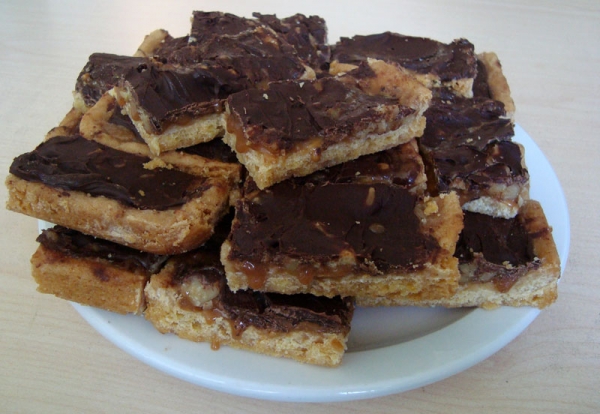 With their crispy, buttery, sweet crust, these are more like candy than like cookies. They remind me of Twix bars - gooey caramel on top of a cookie base covered in chocolate. Using a cake mix for the base made the process go really quickly while creating a nice, sturdy base for all that caramel and chocolate to rest on. The recipe comes from one of my favorite books called
Bars and Squares: More than 200 Recipes
.
Just a little heads up: When I went to remove these from the pan, my heart just about stopped. I thought they were totally and completely stuck to the pan and I would be left with a pile of cookie crumbs rather than cookie bars. There was no way I could have cut these in the pan. I ended up scoring the top as deeply as I could then breaking the bars along the scored lines. I often skip the step of lining my pans with parchment, but for these bars I definitely, definitely recommend lining your pan.
Candy Bar Bars
9 x 13 inch pan | adapted from Jill Snider
1 pkg white or yellow cake mix (18.25 oz)
3/4 cup butter, melted
14 oz. soft caramels, unwrapped (approx 60 pc)
1/3 cup milk
1/3 cup butter
1 2/3 cup confectioner's sugar
1 cup chopped walnuts
1 cup semi sweet chocolate chips
1. Preheat oven to 350 degrees F. Grease and line VERY WELL a 9 x 13 inch pan. Do not skip this step!
2. Combine cake mix with melted butter. Press into prepared pan and bake for 15-20 minutes or until lightly golden.
3. While crust is baking, melt the soft caramels, milk and butter together, stirring frequently. Stir in powdered sugar and walnuts. Spread evenly over hot crust and bake for 5-10 minutes.
4. Immediately sprinkle with chocolate chips. Let it sit for a few minutes to soften the chips then spread the chocolate out evenly over the bars with an offset spatula. Score them deeply to make it easier to break into pieces once it is fully cool (several hours).