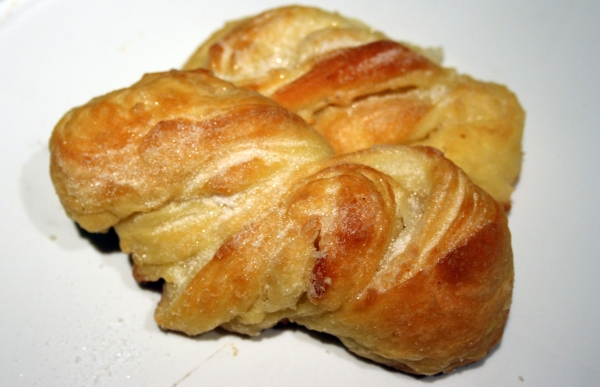 I just bought this wonderful little book called
Fast Breads: 50 Recipes for Easy, Delicious Bread
by Elinor Klivans. The book was published September 2010 but somehow I hadn't seen it on the shelves until last week. It was the last copy and I didn't think twice about buying it. The recipes involve yeast which I love baking with. There is also a focus on sweet breads and comfort breads like sticky buns, cinnamon rolls, brioche, parker house rolls and butter twists. Some reviewers mentioned that the breads a not really "fast" as they require overnight rising. However, the hands-on time is minimal and therefore, they really can be considered "fast" in my opinion. These breads also allow you a lot of flexibility because they can rest in the fridge for a few days, giving you plenty of time to build them into your schedule, no matter how busy you are.I used Elinor's brioche recipe but instead of shaping it into a loaf I rolled it out thin and sprinkled sugar on it they rolled it up - cinnamon bun style - then cut it into pieces and twisted each piece to form a pastry of its own. They were beautiful. The delicate flavor of butter took centre stage, accompanied by a slight crunch from the caramelized sugar. The pastry is golden and light in texture.They were so flaky and light. A lot like croissants but without all the work of making a laminate dough.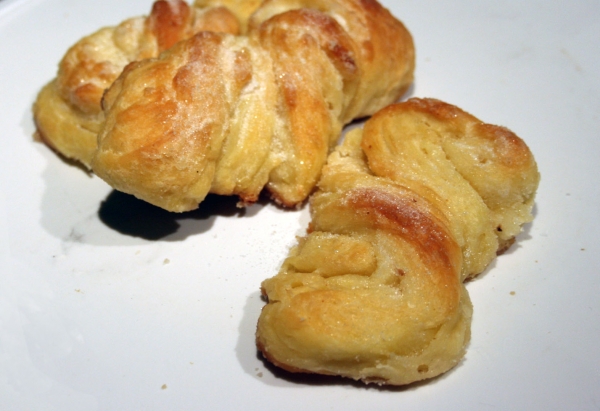 Sugared Brioche Twists
Makes 12 | Adapted from Fast Breads
1/4 cup milk 2 1/4 tsp active dry yeast 1 tbsp sugar 4 large eggs, room temperature 2 1/2 cups all purpose flour 1 tsp salt 1 1/4 cups butter, room temperature, 1" cubes 1/4 - 1/2 cup butter, for filling, room temperature 3/4 cup sugar, for filling 1. Heat milk to 110 degrees F on an instant read thermometer (or to just slightly warmer than body temperature). Transfer to a stand mixer bowl with paddle attachment. Stir in yeast and sugar and let sit until yeast is foamy, 5 mins.2. On low speed, beat in eggs. Add the flour and salt and continue mixing until flour is incorporated and looks like thick cake batter, approximately 8-10 minutes. As you mix, scrape down the bowl and beaters as needed.3. Scrape dough into a buttered bowl. Cover witih plastic wrap and refrigerate overnight or up to 2 days. It will almost double in size. 4. After refrigeration, remove from fridge and roll out into a large rectagle, approximately 11" x 17" inches. Spread evenly with butter and sprinkle with sugar. Roll up into a log and pinch to seal the seam. Cut into 12 even pieces. Pick up each piece and twist it, pulling slightly, to form twisted pastries. Place on baking tray and cover loosely with oiled plastic wrap. Allow to rise for approximately 30 minutes. Sprinkle with additonal sugar if desired.5. Bake at 350 degrees F for 25-30 minutes or until golden brown and dough is cooked through. Serve warm or at room temperature.