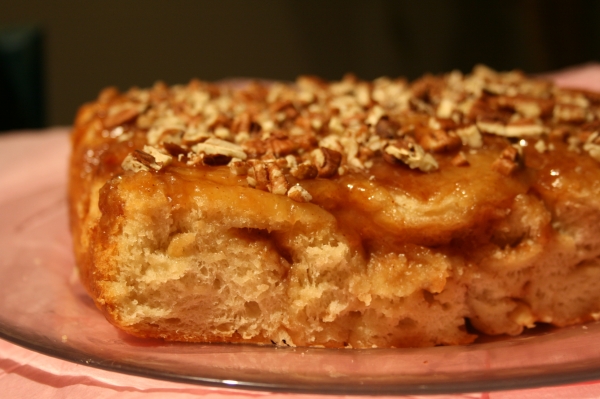 There are a few more hours left to
enter my Giveaway
for a digital food scale, cookbook and holiday spreaders. Click over there to enter up until 11:59 PM PST Sunday, December 5, 2010.
These delicious, ooey gooey sticky buns are made with a delicious potato dough from on of my favorite recipe books. I was lucky enough to find the
The Fannie Farmer Baking Book
for $6.99 at Half Price Books when I last visited. This book is no longer in print but it should definitely be brought back. It is huge - no fancy pictures, only simple illustrations - but does it ever have a wealth of recipes for almost anything you ever wanted to bake, as well as interesting historical background. Information on baking techniques is clear and allows which allows for flexibility in altering recipes to suit your needs. It is the Joy of Cooking's equivalent in the baking domain.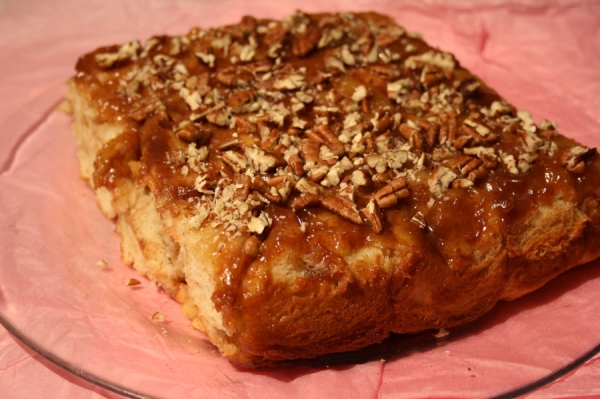 If you can find one near you,
Half Price Books
is a great place to find cookbook gems and to trade in books for cash. It has become a "must visit" place every time I take a trip down to the States. I also found
The Fannie Farmer Cookbook: Anniversary Edition
for a steal. These buns are a combination of my favorite flavors: caramel, apples, cinnamon, pecans and sweet yeast bread. They are buttery and pillow-soft with a little crunch from the apple and a crisp-chewy texture around the edges from the baked caramel. Despite their sweet-sounding name, the buns were not overly rich. The dough contains 1/2 cup of mashed potato and uses the potato-water which makes it an excellent keeper. It stays nice and soft for longer than most other yeast doughs.
Caramel Apple Sticky Buns
Potato Sweet Dough
adapted from The Fannie Farmer Baking Book
1 1/4 cup warm potato cooking water (or milk)
1 pkg (2 1/4 tsp) active dry yeast
1/2 cup sugar
1 1/2 tsp salt
1/2 cup warm mashed potato
1/3 cup butter, softened
4 to 4 1/2 cups flour (all-purpose or mixture of a.p. and bread flour)
Caramel-Apple Filling
1 apple, peeled and diced
1 cup sugar
2 tbsp cinnamon
3/4 cup butter, softened
1/2 cup caramel sauce (bought or homemade)
1/2 cup chopped pecans
1. In a large mixing bowl (or stand mixer bowl) mix the yeast with the warm warm water and let dissolve, about five minutes. Add the sugar and salt and stir to combine. Then add the potato and butter, mixing to combine fully.
2. Using the dough hook, add 3 cups of the flour to the mixing bowl with the liquid ingredients. Mix dough on slow speed, adding flour until the dough is smooth and elastic. It should not stick to the bottom of the mixing bowl. If desired, you can do the final bit of kneading by hand. Put the dough in a large, greased bowl, cover and let rise until double in bulk (approx. 1 hr).
3. Combine apples, sugar and cinnamon in a small bowl and let sit to marinade while dough rises.
4. After dough has risen, punch down the dough, remove from bowl, and roll into a large rectangle 1/2" thick. Spread softened butter evenly over the dough and sprinkle with apple-cinnamon mixture. Drizzle caramel sauce evenly over the dough then roll up into a log and cut into buns. Place in a 9 x 13" baking pan. Cover and put in a warm place.
5. Let rise until almost doubled in bulk. Preheat oven to 375 degrees F. Bake for another 25 - 30 minutes or until golden brown and no longer "doughy". Cool in pan for 10 minutes then loosen the edges with a spatula and invert onto serving tray. Drizzle with extra caramel sauce (if desired) and sprinkle with chopped pecans.