The 2010 December Daring Bakers' challenge was hosted by Penny of Sweet Sadie's Baking. She chose to challenge Daring Bakers' to make Stollen. She adapted a friend's family recipe and combined it with information from friends, techniques from Peter Reinhart's book.........and Martha Stewart's demonstration.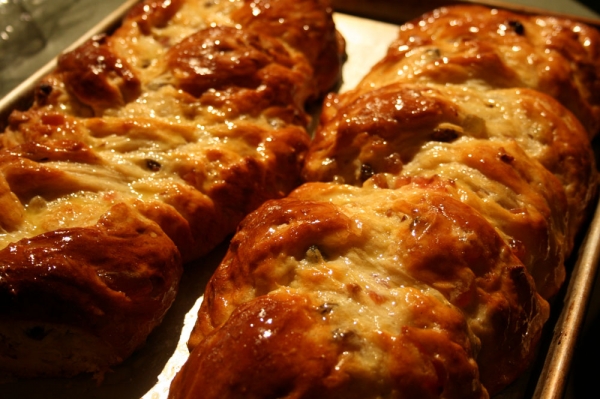 Stollen is a fruitcake made with yeast, water and flour, and usually dried citrus peel, dried fruit, almonds, and spices (cinnamon, cardamom, mace). The dough is rich with butter and eggs and slightly sweetened with sugar. The fruits are soaked in brandy or rum and the finished cake is sprinkled with icing sugar.I used a combination of recipes from the kitchen staple cookbooks: The Fannie Farmer Baking Book and the Joy of Cooking.I made a non-traditional shape - a braid instead of a wreath or loaf. I just couldn't bring myself to cover up the beautiful, golden-brown, fruit-studded bread, so I opted out of the powdered sugar on top.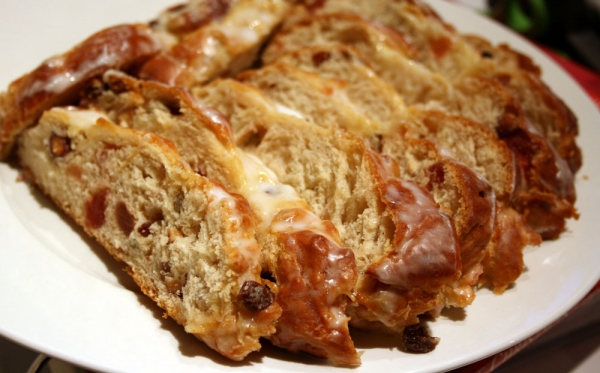 It was very festive looking and very tasty and reminded me of hot cross buns! This was the first stollen I've made, but I'm sure it will make my holiday list in years to come. Thank you, Penny, for opening my eyes and tastebuds to this delicious sweet bread!