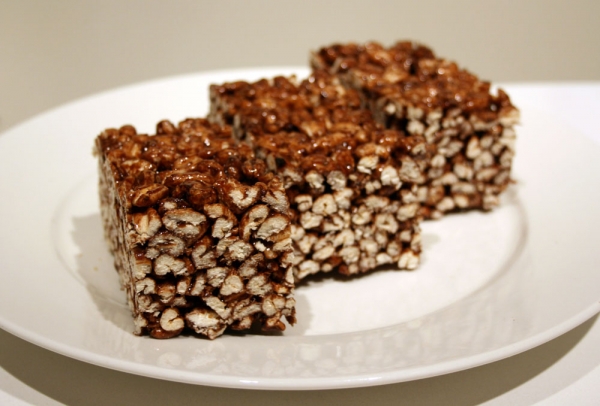 This recipe is one I had completely forgotten about until recently when my little sister asked me to make them. My sis is 5 years younger than me and I've always been a sort of second mother to her, especially since my mom doesn't like cooking or anything to do with the kitchen besides eating, lol.These squares are light, chewy and packed with a surprising amount of chocolate flavor. I find them extremely nostalgic too. Although my own mom never made them, I often had these at friends' houses during after school play-dates. They are probably one of the healthier things you could pack in your child's lunchbox. Oh yeah, and I also love the fact that puffed wheat has only 60 calories per cup!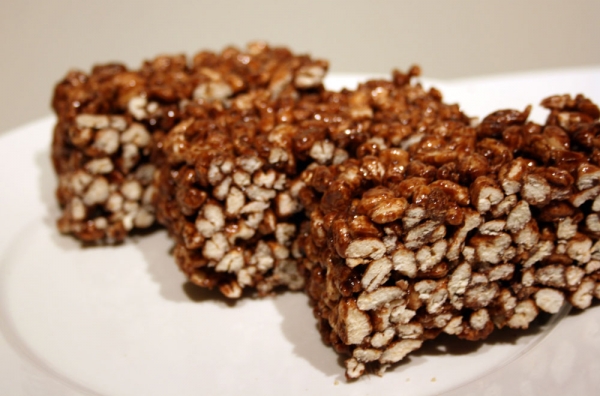 Chocolate Puffed Wheat Squares
Makes 1- 9x13" Pan
1/2 c butter 1/2 cup corn syrup 1/2 cup brown sugar 3 tbsp cocoa 2 tsp vanilla 9 cups puffed wheat Combine corn syrup, butter, brown sugar, vanilla and cocoa in heavy sauce pan. Boil for 5 minutes; remove from heat. Be careful to not let mixture boil longer than 5 minutes to ensure a chewy square. Add puffed wheat; stir. Using buttered pans; pour mixture into greased 9x13 inch cake pan. Pat into pan. Let cool; cut into squares. Store airtight.