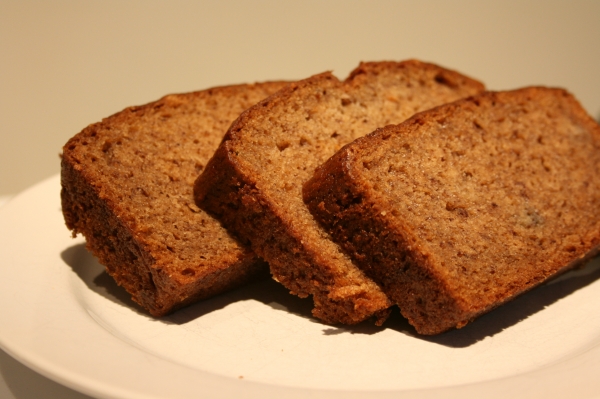 This tender banana bread keeps resists drying out as it gets its moisture from sour cream and mashed bananas. It is perfect for making ahead and freezing. I let the loaf cool for 10-15 minutes in the pan, then invert the pan and let the loaf finish cooling fully out of the pan on the cooling rack. Once completely cooled, cut into 1" thick slices, wrap individually in plastic wrap then place in a container and freeze. This way, they are pre-portioned and easy to thaw only as much as you need.Don't skip dusting the pans with cinnamon sugar. The caramelized sugar gives the crust such a nice little crunch that it's worth the extra step. I have successfully substituted full fat yogurt for the sour cream, but full fat sour cream is my first choice. Omit the walnuts if you like. I usually add them but I ran out this time. I find that they add a nice textural contrast throughout the bread.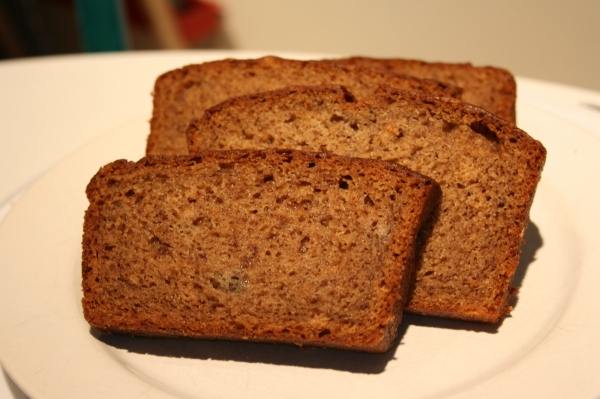 Sour Cream Banana Bread
Makes 2 loaves
3/4 cup butter
3 cups white sugar
3 eggs
6 very ripe bananas, mashed
2 cups (16 oz) sour cream
2 teaspoons vanilla extract
2 teaspoons ground cinnamon
1/2 teaspoon salt
3 teaspoons baking soda
4 1/2 cups all-purpose flour
1 cup chopped walnuts
1. Preheat oven to 350 degrees F. Grease two 9 x 5" loaf pans. In a small bowl, stir together 1/4 cup white sugar and 1 teaspoon cinnamon. Dust pans lightly with cinnamon and sugar mixture.
2. In a large bowl, cream butter and 3 cups sugar. Mix in eggs, mashed bananas, sour cream, vanilla and cinnamon. Mix in salt, baking soda and flour. Stir in nuts. Divide into prepared pans.
3. Bake for 1 hour or more if needed, until a toothpick tests clean.