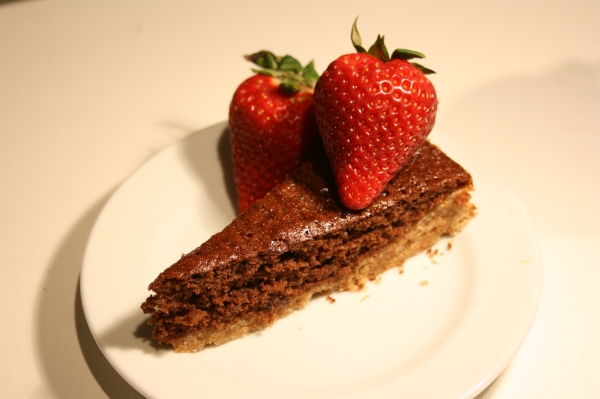 Jessica of
Domestic Deep Thought
chose the Coffee Ice Cream Tart for this week's TWD recipe.I made the crust as directed using walnuts instead of almonds. I didn't use ice-cream because even though it sounded delicious, I needed something to bring to work that didn't have to be frozen. So... instead of filling it with the tweaked ice-cream mixture, I made a chocolate syrup brownie and baked it in Dorie's crust.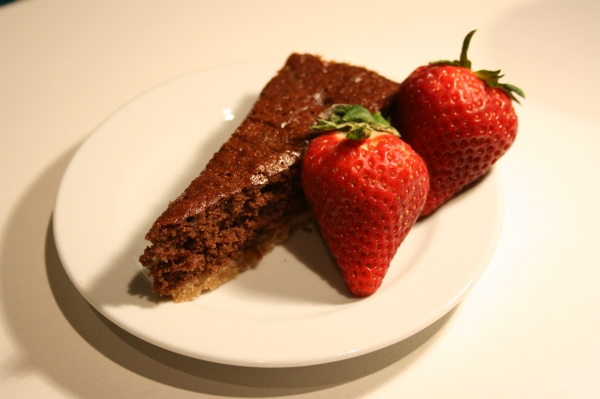 Note: The crust was delicious enough to eat on its own. I may even make sable-like cookies from the crust dough next time and skip the filling altogether!I have included my version of the tart shell and chocolate syrup brownie, but check out Jessica's website for the original recipe.Walnut Brownie Tart
1- 10" tart | adapted from Dorie
For the Crust 1 cup (4 ounces) walnuts3/4 cup all-purpose flour 1/3 cup (packed) light brown sugar 1/2 teaspoon freshly grated nutmeg pinch of salt 1/2 stick (4 tbsp) cold unsalted butter, cut into 4 pieces) 1 large egg 1/4 teaspoon vanilla extractFor the Brownie Filling 1/4 cup butter 1 tsp vanilla 1/2 cup sugar 1/2 cup chocolate syrup 2 eggs pinch salt 1/2 cup chocolate chips1. Crust: Lightly butter a 10-inch fluted tart pan and line a baking sheet with parchment. Put the walnuts, flour, sugar, nutmeg and salt in a food processor and pulse for about 10 seconds, or until the nuts are coarsely chopped. Toss in the pieces of butter and pulse until the dough resembles coarse meal. Add the egg and extract and continue to pulse until the dough forms clumps and large curds, about 10 seconds. Turn the dough out into the tart pan and press the dough evenly over the bottom and up the sides of the tart pan. Freeze for 30 minutes.2. Preheat oven to 400 degrees F. Bake crust for 10 minutes then reduce heat to 350 degrees F. While crust is baking, make filling.3. Filling: Cream butter, sugar and eggs until creamy and well blended. Add salt. Stir in flour and blend thoroughly. Add chocolate syrup, vanilla and chocolate chips. Stir. Pour over semi-baked walnut crust. Bake for about 30 minutes or until a toothpick inserted near the center comes out almost clean. Loosen around edges and allow to cool in the pan.