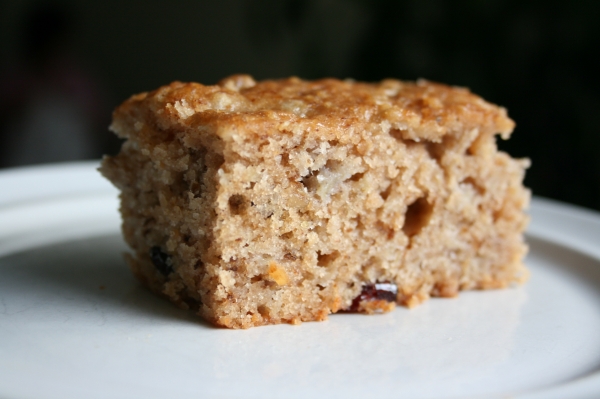 This recipe comes from a cookbook called
The Sweeter Side of Amy's Bread
. Apples and walnuts are perfect partners and this recipe shows them off wonderfully. It is one of those homely, unpretentious, down to earth yummy cakes that reminds you of home. It is just the kind of comforting cake I need right now as I am 3 weeks into my home renovations and utterly sick of being surrounded by construction dust, debris and tools. If all goes well, I will have only 2 weeks left of this and I can hardly wait! Once this is all done I will be back to baking more frequently. I've really missed it.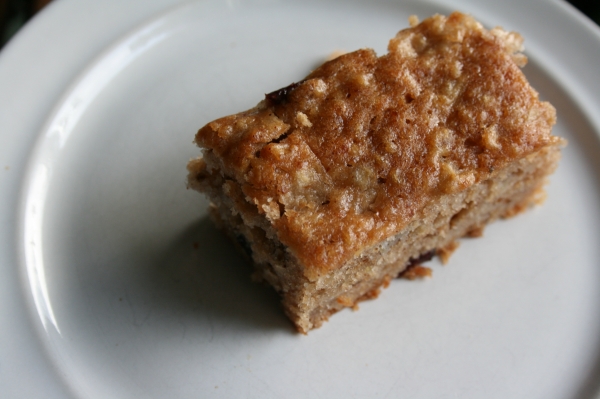 Recipe tips: The corn oil gives this cake a slightly more buttery flavor but canola oil will work just fine. If you don't have a food processor, use a grater to grate the apples. Just be warned that grated apples will release more moisture than those pulsed in the food processor.
Apple Walnut Cake
9x13" pan | adapted from The Sweeter Side of Amy's Bread
2 1/2 large apples 1/2 cup dried cherries or cranberries 3/4 cup chopped walnuts 1 1/2 cups sugar 1 cup corn oil or canola oil 2 large eggs 3/4 tsp vanilla 2 1/4 cups flour 1/2 tbsp salt 3/4 tsp baking soda 1 tsp cinnamon 1. Preheat oven ot 350 degrees F. Spray/line a 9x13" pan. 2. Cut apples into chunks and process in food processor for a few seconds until chopped but not mushy. Toss with dried cranberries/cherries and walnuts. 3. Whisk together sugar, oil, eggs, vanilla until well combined. In a separate, larger bowl, mix dry ingredients together. Add oil mixture to flour mixture and stir gently with wooden spoon until almost combined - there will still be flour visible. Fold in apple mixture until evenly distributed. Batter will become softer and easier to handle. Pour into prepared pan and spread evenly. 4. Bake 30-35 minutes or until toothpick comes out clean. Rotate the pan halfway through. Cool completely on wire rack. Serve at room temperature. Store in refrigerator.