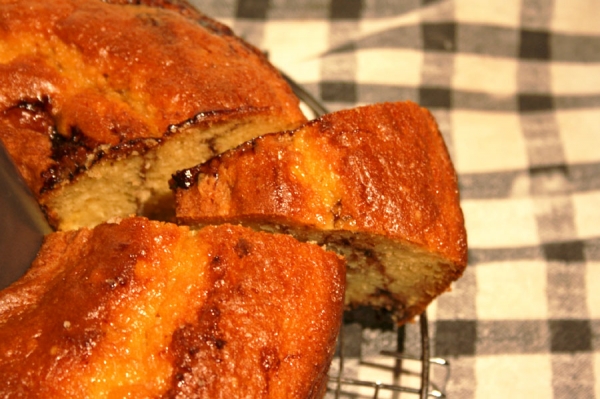 You can tell I'm super-busy when my baking starts to rely more on doctoring cake mixes and canned crescent rolls. I'm a huge proponent of baking from scratch, but life has been passing by so fast that sometimes a girl's just gotta cheat a little. If you are planning on using a cake mix anyway or if you need to make a cake quickly, I highly recommend this recipe. Your reward for all your "hard work" is a very vanilla-y, very moist and very chic tube cake with a swirl of chocolate syrup running through the middle. I love the way it split down the middle and has a tight crumb similar to that of pound cake. It even looks homemade!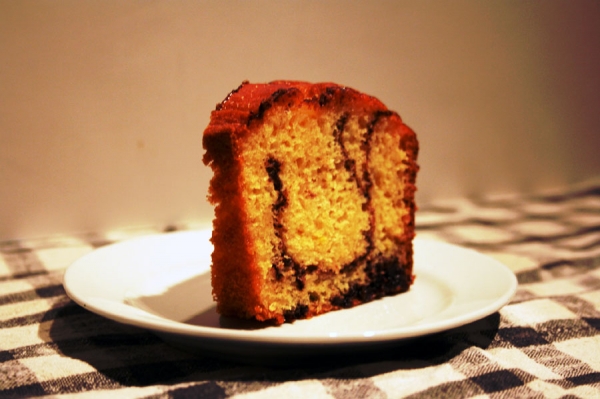 Chocolate Syrup Coffee Cake
1 Bundt |
Cake Mix Magic
1 box (18.25 oz.) yellow cake mix 1 pkg vanilla instant pudding 1 cup sour cream 1/2 cup vegetable oil 4 large eggs 1/2 cup chocolate syrup 1. Place a rack in center of oven and preheat to 350 degrees F. Lightly grease a 10" tube pan with vegetable oil spray then dust with flour. Shake out excess flour and set pan aside. 2. Place cake mix, pudding mix, sour cream, oil and eggs in a large mixing bowl. Blend with electirc mixer on low for 1 min. Stop and scrape down sides of bowl. Increase speed to medium and beat 2 min. more. Batter should look thick and smooth. Pour half of the batter into the pan, smoothing it out with the rubber spatula. Pour the chocolate syrup evenly over the batter, making sure not to let the syrup touch the sides of the pan. Pour the remaining batter over the syrup and swirl gently with a knife, making sure to keep the chocolate syrup away from the sides of the pan. 3. Bake for 55-60 min. Remove from oven, cool for 20 min. Run a sharp knife around the edge of the cake and invert onto a rack then invert onto another rack so that the cake is right side up. Cool completely. Serve, no frosting needed.