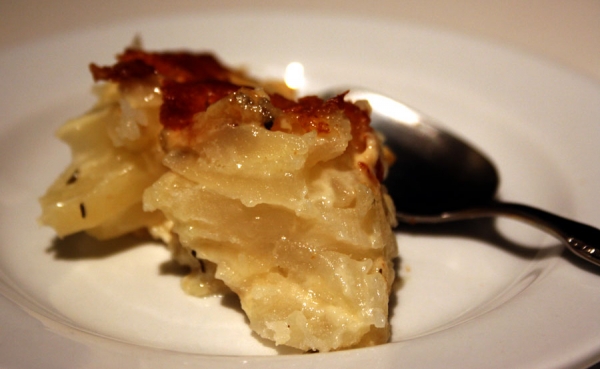 These are the best scallopped potatoes I have ever had. I could have eaten the whole thing myself! The dish smelled fantastic in the oven. I used both rosemary and thyme and the smell reminded me of roasting a turkey. I think this will be making an appearance at Christmas Dinner instead of the usual mashed potatoes. They scream "comfort food"! The garlic-cream marries so well with the potatoes for a dish that is as beautiful as it is delicious. The tender potatoes are so smooth and so much easier on the arms than mashing!
All you do is simmer the cream and the garlic, slice your potatoes, arrange in your baking dish, sprinkle with S & P & herbs, pour the garlic cream over the potatoes, cover with shredded cheese and bake to bubbly perfection. I used Mozzarella cheese. The dark-golden-brown topping was crisp and flavorful, providing just the right amount of textural contrast to the white, creamy potato slices.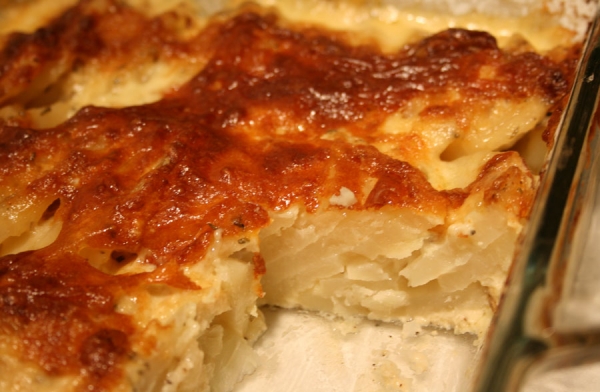 The best part is that I got a chance to use my "new" Swissmar Borner V-Slicer Mandoline that I got suckered into buying at the PNE (yearly expo in Vancouver) in the summer. It's taken me 3 months to finally use it. I bought it in August but have been a little scared to use it based on horror stories involving sliced fingertips. After making this gratin, I am no longer afraid. Now I want to find every excuse to use this V-Slicer.