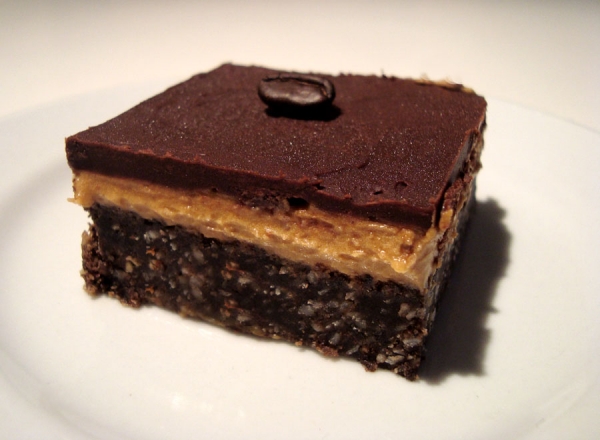 This no-bake recipe is from
Bars and Squares: More Than 200 Recipes
. Nanaimo bars, named after a city in BC (my home province!), consist of a graham crumb base layer, topped by vanilla/custard butter icing (in this case I used coffee flavored) then covered in a thin layer of chocolate. You can also try different crumbs, filling and chocolate.
I liked this version way better than regular Nanaimos which are often too sweet. I could have eaten the bowl of the coffee buttercream just on its own. Next time I might skip the base and topping and just go straight for the middle.
The
Daring Bakers
made these as their January 2010 challenge. My version is
here
, but the coffee flavored kick I added this time around is simply awesome.
Note: To get nice, clean cuts without the chocolate top cracking, after you spread the chocolate on, refriegerate for 5 minutes - chocolate should still be slightly soft - then score the top using a sharp paring knife. Refrigerate to chill fully then cut into bars all the way through following the pre-cut lines.
Cappuccino Nanaimo Bars
8" Square Pan | adapted from Jill Snider
Base:
2/3 cup butter
1/3 cup cocoa powder
1/4 cup sugar
1 tbsp instant espresso powder
1 egg, beaten
1 1/2 cups graham cracker crumbs
3/4 cup sweetened, flaked coconut
3/4 cup finely chopped almonds
Filling:
2 cups confectioner's sugar
1/4 cup butter, softened
1 tbsp instant espresso powder
2 tbsp hot water
Topping:
2 tbsp butter
1 tbsp instant espresso powder
4 oz. semi sweet chocolate, chopped
1. In a sauceman over low heat, combine butter, cocoa, sugar, espresso powder and egg. Cook, stirring, until mixture starts to thicken, 5 mins. Remove from heat. Mix in graham crumbs, coconut and almonds. Press evenly into prepared pan. Refrigerate until cold, 30 minutes.
2. Meanwhile, beat half the confectioner's sugar with the butter until blended. Mix espresso powder and hot water until dissolved. On medium, beat espresso mixture into butter mixture and add remaining confectioner's sugar. Beat until smooth and creamy. Spread evenly over base. Refrigerate until firm, 2 hours. Lift out of a pan and transfer to cutting board.
3. Melt all topping ingredients together. Pour over filling and quickly spread to cover evenly. Refrigerate for 5-10 minutes or until chocolate is slightly set. Score the top of the bars just through the chocolate layer (to make cutting easier later on). Return bars to refrigerator to set fully, about 30 minutes. Cut into bars. Store in refrigerator for up to 3 weeks.