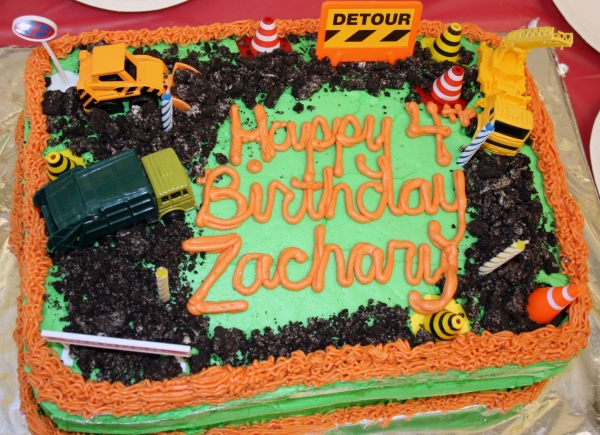 Happy 4th birthday Zachary! I made this construction-site cake for his birthday party. We had so much fun decorating it together. I let him pick out which construction vehicle toys he wanted to put on top and he helped crush up the oreo cookies for the "dirt" on top.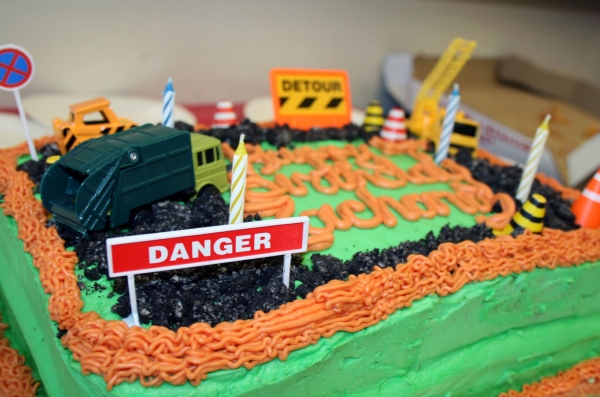 Instead of buying a cake mix, I decided to give this copycat recipe from Todd Wilbur's Top Secret Recipes a shot. The texture was spot on. and everyone raved about the taste. I doubled the recipe to make a 2-layer cake and filled the cake with raspberry jam.The beautiful part of this recipe is that you can make this mix ahead of time and store in a zip-lock bag. When you are ready to make the cake, just add the same amount of water, oil and eggs just as you would with a storebought mix.
Duncan Hines Yellow Cake Mix Clone
Makes equivalent of 1 box of mix
3 cups cake flour 2 cups superfine sugar 2 teaspoons baking powder 2 teaspoons baking soda 1 1/4 teaspoons salt 1/2 cup shortening 2 teaspoons vanilla 2 teaspoons imitation butter flavoring 10 drops yellow food coloring 1 1/3 cups water 1/3 cup vegetable oil 3 large eggs To make the mix: Combine flour, sugar, baking powder, baking soda, and salt in a large bowl. Stir to combine. Combine shortening, vanilla, and food coloring with an electric mixer in a small bowl. Spoon shortening mixture into dry ingredients and beat well with mixer on medium speed. Mix until no chunks of shortening are visible. The mix should resemble cornmeal. This is your cake mix, which you can keep in a sealed container for several months until you are ready to make the cake. To make the cake: Preheat oven to 350 degrees F. Grease the sides and bottom of two 9 inch baking pans or one 13x9 inch pan. Lightly flour pans. Blend dry cake mix with the water, oil, and eggs in a large bowl on low speed until moistened. Increase to medium speed and beat for two minutes. Pour batter into pans and bake for 30-33 minutes for 9 inch pan, 35-38 minutes for 13x9 pan. Cupcakes take 19-22 minutes.