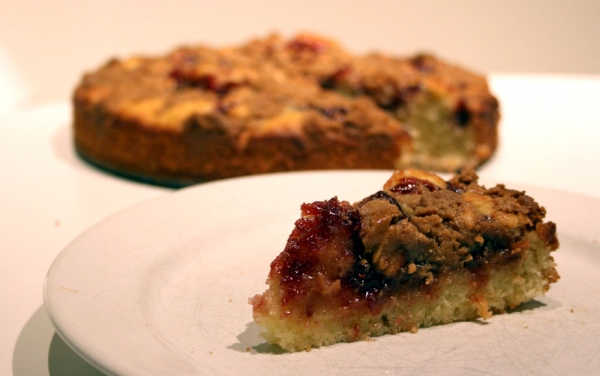 Did you know that food allergies affect 8% of children under 3, and 6-8% of school-age children. 85% of children outgrow milk and egg allergies by age 5, but only 20% outgrow peanut allergies by age 6. The prevalence of peanut allergies in children has doubled in the past five years. I guess those days of good old PB&J sandwiches are going the way of the dinosaurs. Now it would have to be something like "Lactose-Free-Nut-Free Soy PB & J"! Tee hee.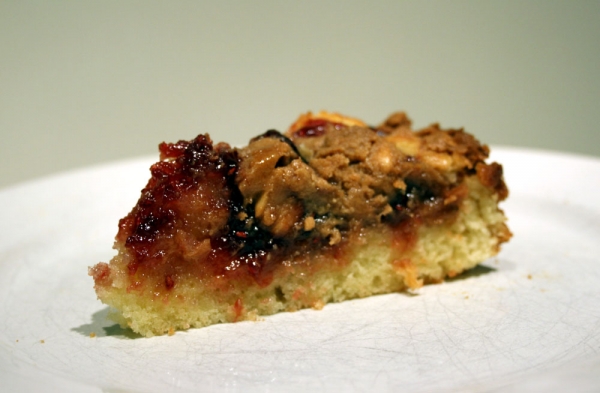 It's too bad schools have to be so strict with enforcing peanut-free lunches due to allergies. This would make a great lunchbox treat - sturdy and not too sweet with a chewy centre. I guess your kids will just have to eat peanut butter and jelly crumb cake at home instead! This recipe starts out as a thin layer of a basic coffee cake batter topped with a generous serving of jelly and a unique peanut butter crumb topping. The crumbs are to die for. I had to exert all kinds of crazy will-power not to pick all the crumbs off the cake!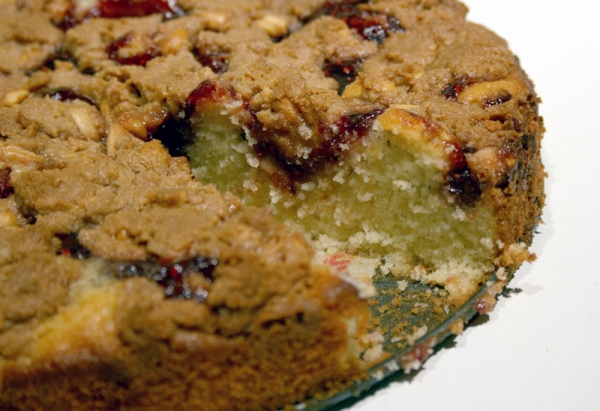 Peanut Butter and Jelly Crumb Cake
10" Round Cake | Cake Keeper Cakes
1/2 cup smooth peanut butter 1/4 cup flour 1/4 cup brown sugar 1/4 cup honey roasted peanuts, chopped 2 large eggs 1/2 cup whole milk 1 tsp vanilla 1 1/3 cups flour 1 tsp baking powder 1/2 tsp salt 1/2 cup butter 3/4 cup sugar 3/4 cup jam 1. Preheat oven to 375 degrees F. Grease the inside of a 10" round spring form pan. 2. Crumbs: Combine peanut butter, 1/4 cup flour, brown sugar and peanuts in a small bowl. Crumble together with your hands. 3. Cake: Combine eggs, milk and vanilla. In a separate bowl, combine flour, powder, salt. 4. Cream together butter and sugar. When light and fluffy, add egg mixture and beat until smooth. Then add flour mixture and mix until just combined. Spread into the prepared pan. 5. Evenly spread the jam over the cake batter in the pan then crumble the peanut butter crumbs on top. Bake in preheated oven for 40-45 minutes. Cool in pan for 10 minutes before releasing the sides. Serve at room temperature. Store airtight for up to 2 days.