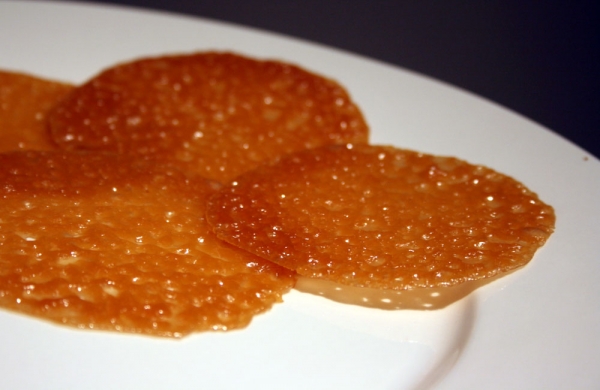 The February 2011 Daring Bakers' challenge was hosted by Mallory from A Sofa in the Kitchen. She chose to challenge everyone to make Panna Cotta from a Giada de Laurentiis recipe and Nestle Florentine Cookies.
I made mine lemon-flavored by using lemon gelatin powder instead of plain and throwing in some lemon zest. I made mine in a spring form pan atop a graham cracker crust, much like a no-bake cheesecake. It was delicious, but next time I will let it set a little longer in the fridge before digging in.
The florentines were delicate, crisp and lacy. Word of caution: You absolutely need a silicone mat or parchment for easy removal from the baking tray.
Lemon Panna Cotta
adapted from Giada de Laurentiis
1 cup whole milk
2 tablespoons lemon flavored Jell-o powder
3 cups whipping cream
1/3 cup honey
1 tablespoon sugar
zest from 1 lemon
Pinch salt
Place the milk in a small bowl. Sprinkle the gelatin over. Let stand for 3 to 5 minutes to soften the gelatin. Pour milk mixture into a heavy saucepan and stir over medium heat just until the gelatin dissolves but the milk does not boil, about 5 minutes. Add the cream, honey, sugar, zest and salt. Stir until the sugar dissolves, 5 to 7 minutes. Remove from the heat. Pour into serving dishes. Cool slightly. Refrigerate until set, at least 6 hours.
Florentines
Nestle
2/3 cup unsalted butter
2 cups quick oats
1 cup granulated sugar
2/3 cup flour
1/4 cup dark corn syrup
1/4 cup whole milk
1 tsp vanilla extract
pinch of salt
1 1/2 dark or milk chocolate
Preheat oven to 375 degrees F. Prepare your baking sheet with silpat or parchment paper. Melt butter in a medium saucepan, then remove from the heat.
To the melted butter add oats, sugar, flour, corn syrup, milk, vanilla, and salt. Mix well. Drop a tablespoon full, three inches apart, onto your prepared baking sheet. Flatten slightly.
Bake in preheated oven for 6-8 minutes, until cookies are golden brown. Cool completely on the baking sheets.
While the cookies are cooling melt your chocolate until smooth either in the microwave (1 1/2 minutes), or stovetop (double boiler).
Peel the cookies from the silpat or parchment and place face down on a wire rack set over a sheet of wax/parchment paper. Spread a tablespoon of chocolate on the bottom of your cookie, sandwiching another cookie atop the chocolate.