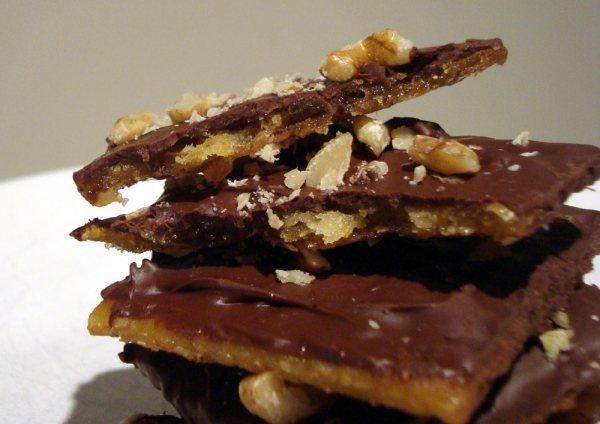 I am in love with these cookies. Kinda like Heath Bars. You have probably heard of them before or made them in home ec class. They are the easiest thing in the world to make. The effort is minimal and the results are delicious. The soda cracker base gives a light, airy texture and their slight saltiness plays off the sweetness of the chocolate and caramel. The crackers absorb the caramel and creates a delightfully flaky, sticky, chewy cookie. Then they are covered in melted chocolate and chopped nuts.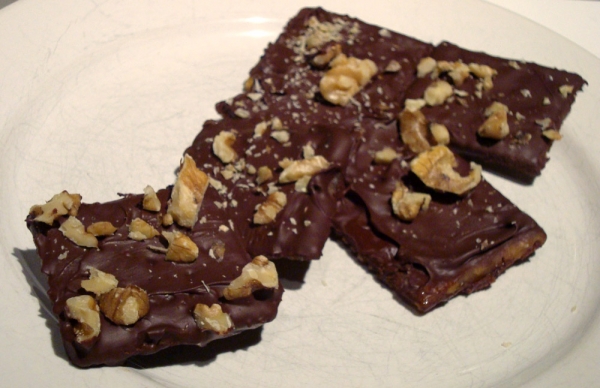 This recipe is easily doubled, but if I were you, I would quadruple it because they are really addictive! I like to make a ton of them at once and store them airtight in a glass jar. They look pretty, keep for a long time and are always a nice treat to have on hand or to take to potlucks.Saltine Toffee Cookies
4 dozen
4 ounces lightly salted or unsalted saltine crackers 1 cup butter1 cup dark brown sugar 2 cups semi-sweet chocolate chips 3/4 cup chopped pecans, walnuts or almonds1. Preheat oven to 400 degrees F. Line a cookie sheet with a silicone liner or parchment paper. Place a single layer of saltine crackers on the cookie sheet. 2. In a saucepan, combine sugar and butter. Bring to a boil and boil for about 3 minutes. Remove from heat and pour evenly over crackers. Bake 5-6 minutes. Remove from the oven and sprinkle with the chocolate chips. Let sit for 5 minutes to soften chocolate. Spread the melted chips on the crackers and top with chopped pecans. 3. Cool completely (a few hours) and break into pieces to serve.