The January 2010 Daring Bakers' challenge was hosted by Lauren of Celiac Teen. Lauren chose Gluten-Free Graham Wafers and Nanaimo Bars as the challenge for the month. The sources she based her recipe on are 101 Cookbooks and www.nanaimo.ca.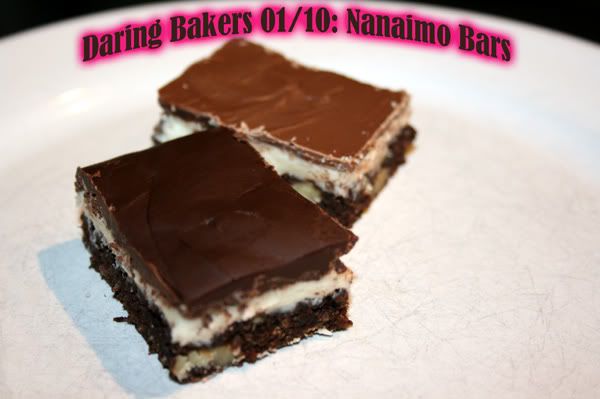 This month's challenge is near to my heart. Being from Vancouver, BC, the city of Nanaimo is only a short drive and ferry ride away - about 60km (36 miles). It's neat that so many bakers around the world this mont are baking these bars which originate from my very own province! (Beams with pride). My personal preference is to omit the coconut and add a few tbsp of peanut butter to the filling. However, I have included the original, unadulterated Nanaimo Bar recipe below.
Confession: I did not do the graham cracker part of the challenge, I used storebought instead because I had a sleeve of them leftover. I also couldn't find graham flour!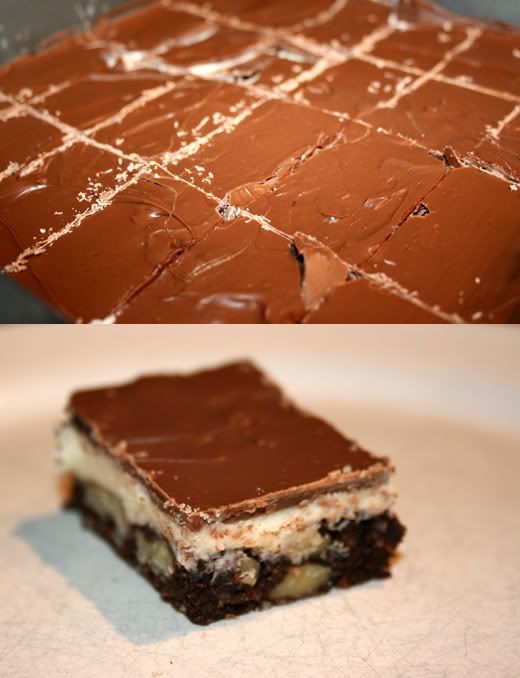 Nanaimo Bars
City of Nanaimo, BC
Bottom Layer
1/2 cup unsalted butter
1/4 cup sugar
5 tbsp. cocoa
1 egg beaten
1 1/4 cups graham wafer crumbs
1/2 c. finely chopped almonds
1 cup coconut
Melt first 3 ingredients in top of double boiler. Add egg and stir to cook and thicken. Remove from heat. Stir in crumbs, coconut, and nuts. Press firmly into an ungreased 8" x 8" pan.
Second Layer
1/2 cup unsalted butter
2 Tbsp. and 2 Tsp. cream
2 Tbsp. vanilla custard powder
2 cups icing sugar
Cream butter, cream, custard powder, and icing sugar together well. Beat until light. Spread over bottom layer.
Third Layer
4 oz. semi-sweet chocolate
2 Tbsp. unsalted butter
Melt chocolate and butter overlow heat. Cool. Once cool, but still liquid, pour over second layer and chill in refrigerator.