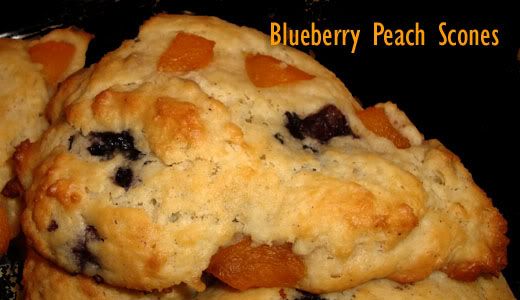 The weather here has been surprisingly pleasant, especially compared to last year when I was snowed in and had to cancel my trip to L.A. over Christmas because of the now. Today it was 6º Celsius and I was loving every minute of it. I pretty much have zero tolerance for the cold. I have my room thermostat cranked to 30 all the time. I know it's only January 4th, but I've already got my sights set on summer and feeling warm again.
The one positive thing about having poor circulation and body heat regulation is that my hands are great for pastry making as they don't melt the butter when you're working with the dough.
So, today I baked some summer inspired scones using the fruit I'd frozen back in August. These scones are very tender and moist and easily adaptable. All you need is a bowl and a wooden spoon!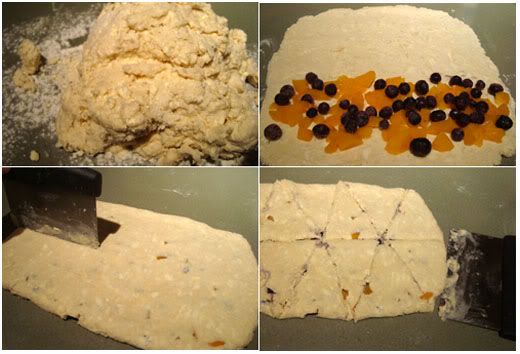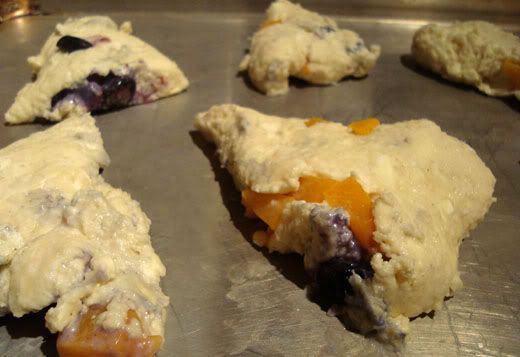 Blueberry Peach Scones
Makes 8-10 | America's Test Kitchen
2 cups flour
1/2 cup sugar
2 tsp baking powder
1/4 tsp baking soda
1/2 tsp salt
1/2 cup butter, very cold
1/2 cup sour cream
1/2 cup whole milk
1/2 cup blueberries, fresh or frozen (unthawed)
1/2 cup diced peaches, fresh or canned
dugar for sprinkling, optional
1. Preheat oven to 400F. Combine all dry ingredients in a med/lrg bowl. Cut in butter until it resembles peas.
2. Stir together sour cream and milk then add to flour mixture, mixing with a fork. Do not over mix.
3. Roll out into a square about 1/2 inch thick. Sprinkle fruit over bottom 1/3 of the dough, pressing fruit in gently. Fold up like a letter*** Gently roll out dough until it is about 3/4" thick. Cut out scone triangle shapes and transfer to cookie sheet, ungreased. Sprinkle with sugar if desired. Bake 25-30 minutes or until golden brown on top.
***Alternately, you could just mix the berries and peaches in but then the berries bleed color into the dough and get mushed up.
Tip: If you want to make these ahead, you can roll and cut them then freeze. Later, bake from frozen and add approx. 5 minutes to baking time.