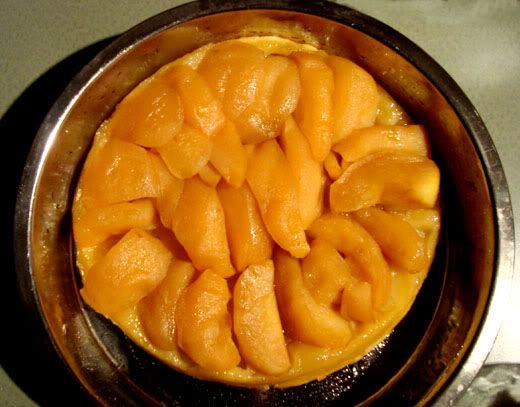 Today's
Tuesdays with Dorie
recipe is Tarte Tatin. This week is extra special because it was picked by the person who started TWD in the first place - Laurie at
Slush
. Check out her website for the recipe.
I was super excited to make this. I love all apple baked goods and I've never made an upside-down anything before, not even an upside-down cake! so it was a nice challenge for me. The dish smelled sooo good as the apples bubbled away happily on the stove top. However, in the end I was so disappointed! I didn't brown mine for long enough before bakingso they ended up pale and anemic looking. I was afraid of burning them as I couldn't see the color properly in my dark pan and so I was overly cautious. As I pulled it out of the oven and prepared to flip it, my heart was pounding. I just kept replaying the scene where Julia Child flips something over and it falls all over the place. Overall the flipping went well although a minimal amount of juice/caramel did fly out during the flip.
I ended up making a caramel sauce afterwards and pouring that over the apples (shown in the first picture) for more color and more caramel-ly taste. See the huge difference between the first and second pictures?
**Tip: Improvising the pan**
I had no idea how to execute this recipe since I didn't have an ovenproof pan. My cast iron skillet had a wooden handle which I wasn't sure could be put into the oven. After talking to a sales associate at a kitchen store, I found out that you can wrap your wooden handle in foil to protect it from the heat and proceed to put it in the oven! Worked for me!
The other option is to cook the apples on the stove then carefully slide them onto a bake-safe dish such as a pie plate (ceramic if you have it). Rearrange the apples nicely after transferring and proceed with covering them with pie dough and baking.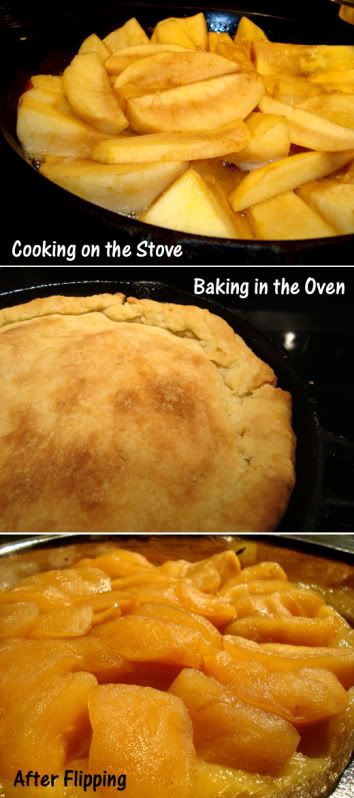 Tarte Tatin history: Tradition says that the Tarte Tatin was first created by accident at the Hotel Tatin in Lamotte-Beuvron, France in 1898. The hotel was run by two sisters, Stéphanie and Caroline Tatin. Stéphanie started to make a traditional apple pie but left the apples cooking in butter and sugar for too long. She tried to rescue the dish by putting the pastry base on top of the pan of apples, quickly finishing the cooking by putting the whole pan in the oven. After turning out the upside down tart, she was surprised to find how much the hotel guests appreciated the dessert. (Wikipedia)
Hotel Tatin