Another quickie recipe using a cake mix. I couldn't help myself - Betty Crocker cake mixes were on sale for $1 each, so I stocked up. I'm such a sucker for buying in bulk when things are on sale. Especially baking ingredients. I go through so much flour as I bake almost every day so when it goes on sale I buy a 2 or 3 bags. Same with sugar. I also find myself buying ingredients just because they are cheap, then finding myself in a rush for recipes to use them up before the best before date. Silly me.
I'm curious... How closely do you adhere to "best before" dates? I use them as a guideline but I often find that things are still good for a lot longer than the date on the package. What confuses me is the "sell by" date because then I really have no idea what the expiry date is! Hmmm... maybe I overthink such things?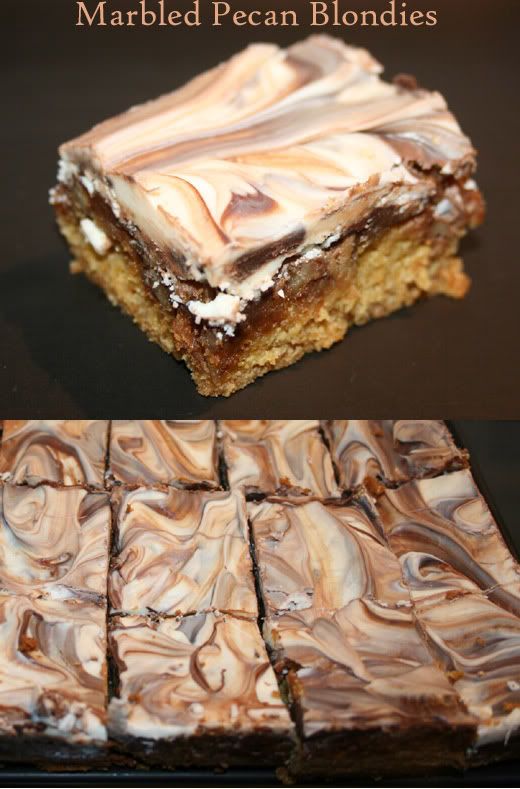 These blondies are dense with a pleasantly chewy-sticky centre of caramel and pecans. If you eat them slightly warm, the chocolate is still gooey and melty. Mmmm. With their marbled topping they look dressed up with minimal effort. Cake mix doctored recipes are great because they offer so much instant variety. Switch the cake mix and suddenly you have a different recipe!
Marbled Pecan Blondies
9 x 13 pan
1 box yellow cake mix
2 eggs
1/3 cup vegetable oil
40 unwrapped soft caramels
2 tbsp whipping cream
3/4 cup chopped pecans
1 cup semisweet chocolate or chips
1 cup white chocolate or chips
1. Preheat oven to 350 degrees F. Grease a 9 x 13 inch pan.
2. Combine cake mix with eggs and oil. Press into greased pan. Bake for 25-30 minutes or until almost fully cooked. Remove from oven but leave oven on.
3. Melt caramels with whipping cream in a heavy sauce pan over low-medium heat, stirring frequently. Stir in pecans then spread over base. Return to oven until base is fully cooked (5-10 more minutes).
4. Remove from oven and sprinkle with chocolate chips. Let stand for 5 minutes to soften chocolate then spread chocolate with an offset metal spatula, creating a marble pattern. Cool fully - several hours - before cutting. If you want to refrigerate these, make sure you score the chocolate top first or it will crack when you cut them.