Oh, the infamous monkey bread. Little balls of buttery, sticky, gooey, cinnamon covered goodness baked into a beautiful Bundt. What could be fun-ner? I have also heard this bread being called "bubble bread" or "pull-apart bread".
Be creative! Add in chocolate chips or switch the type of nuts if you like. Some people add a package of vanilla pudding mix to the cinnamon sugar mixture for a more caramelly flavor. You could even add chopped apples and top with caramel sauce instead of icing. In the picture below you can see the stages of done-ness from raw to baked to invernted and finally iced.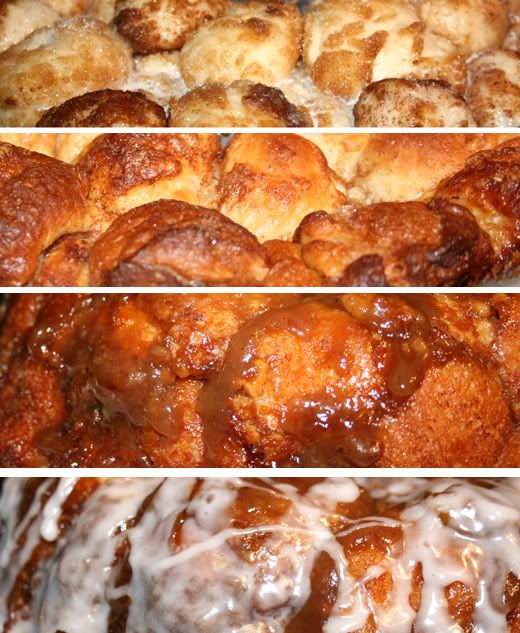 I used a dough recipe for "Wondrous Bread" AKA. Copycat Wonder Bread (from my new cookbook by Marcy Goldman of
Better Baking.com
). The copycat
Pizza Hut Pan Pizza Crust
which I was really impressed by also came from
this book
. I can't put my finger on why exactly, but this book struck a chord with me and Marcy Goldman had won my trust early on. This book covers every category of baking, even fried doughs like Beavertails and Doughnuts. Not many pictures in this book, but I didn't miss them at all. She knows her stuff and her recipes are solid, tried, tested and true. I've never been a member of betterbaking.com so I don't know how the book compares to the website, but as a stand-alone, the book is amazing. The recipes range from simple (brownies) to complex (puff pastry) Her experience as a commercial baker shines through as she translates her knowledge into pieces suitable for homr baking. I found this book to be a quick favorite amongst my many baking books.
Cinnamon Walnut Monkey Bread
Makes 1 Bundt | Dough recipe from BetterBaking.com
Dough:
1 1/3 cups warm water
4 1/2 tsp instant yeast
3 tbsp sugar
2 tsp salt
5 tbsp butter, melted
2 1/4 cups all-purpose flour
1-2 cups bread flour
Filling:
3/4 cup melted butter
1/2 cup walnuts, chopped
2 teaspoons ground cinnamon
3/4 cup light-brown sugar
Icing:
2 cups confectioners' sugar
2-3 tbsp milk
1 tsp vanilla
1. Dissolve yeast in warm water with 1 tbsp of sugar for 2-3 minutes. Add in melted butter, remaining sugar, salt and the all purpose flour. Mix it in by hand or using a dough hook until it forms a soft mass, adding bread flour as needed to form a soft dough, not too much flour! Let rise, covered, in a warm place for 30-45 minutes until almost doubled.
2. Make coating: Put melted butter in a bowl. In another bowl, mix brown sugar and cinnamon. Sprinkle 2 tablespoons cinnamon-sugar and half the walnuts into a well greased and floured Bundt pan. On the counter, gently deflate dough and divide into 1/2" pieces. Roll into balls. Dip balls in butter, then roll in cinnamon mixture. Layer them in the prepared Bundt pan. Sprinkle remaining walnuts over the dough balls halfway through the layering. Cover with plastic wrap; let rise about 1 hour or until doubled in size.
3. Bake at 350 degrees F for 30-35 minutes until golden brown. Cool 15 minutes in pan then invert. Cool 20 minutes while you make the icing: In small bowl, combine icing ingredients until smooth. Drizzle over slightly cooled bread.