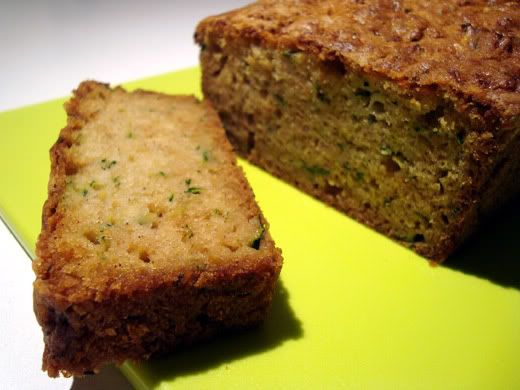 Zucchini is my current obsession. I tend to fixate on one food intensely for a period of time then make myself so sick of it that I don't want to eat it again for a really long time. Before Zucchini it was spinach and before that it was spring mix. Right now I love the buttery taste and texture after the zucchini has been cut into 1" chunks and steamed - no oil! I sprinkle (way too much) coarse sea-salt on it and dig in. I could eat 3 or 4 zucchinis in one sitting cooked in this way.
So, in honor of my obsession, here is an old classic: zucchini bread. Nice, simple, lightly sweetened and very moist. This recipe has a higher proportion of zucchini per loaf than others I've seen (1 1/2 cups/loaf), so dare I venture to say it is healthier?! Serve with your favorite cream cheese frosting or just plain.
Zucchini Bread
1 loaf | Adapted from Canadian Living Magazine
2 cups all-purpose flour
1 tbsp baking powder
1 tsp cinnamon
1/2 tsp salt
1/4 tsp nutmeg
1 egg
3/4 cup sugar
1/2 cup vegetable oil
1/4 cup milk (approx.- use more/less depending on how juicy the zucchinis are)
2 tsp vanilla
1 1/2 cups grated zucchini, unpeeled
1/2 cup chopped walnuts (optional)
In bowl, stir together flour, baking powder, cinnamon, salt and nutmeg.
In separate bowl, whisk together egg, sugar, vegetable oil, milk, and vanilla. Stir in zucchini, and walnuts (if using). Pour over dry ingredients; stir just until combined. Scrape into greased 8x4-inch loaf pan.
Bake in centre of 350 degree F oven for 1 hour or until cake tester inserted in centre comes out clean. Let cool in pan on rack for 10 minutes. Turn out onto rack; let cool completely.