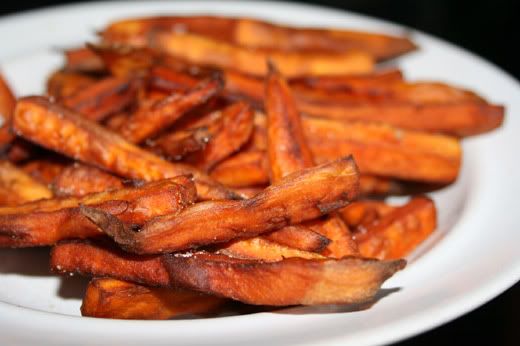 These. Were. So. Good.
What a nice change from regular old potatoes too! I heard that they're better for you than potatoes. Well, whether that's true or not, I'm not sure, but I'm gonna hang on to that as truth because I'll take any excuse I can get to eat these. If you happen to have leftovers - highly unlikely - refrigerate them and give them a quick re-heat in your toaster oven to re-crisp them at a later time.
The picture below shows the finished yam fries, the yam fries in the dutch oven frying and the fries after the first frying - notice how they are not browned yet at this point.
Yam Fries
2 servings
1 lb (or as many sweet potatoes/yams as you want)
2-3 inches oil for deep frying in a dutch oven (or as required by your fryer)
Salt and Pepper to taste
Equipment: Deep Fryer (or Heavy Pot and Thermometer), Wire Skimmer
1. Peel and cut sweet potato into strips. I like them cut thin so they get crispier versus being too potato-ey inside. About 1/4" thick seemed to work. Try and cut them all the same size.
2. I used the double-frying method that is used for fries. They are crispier when cooked this way and for the little bit more effort it takes to double-fry, the results are totally worth it. First you fry them at 325 degrees F for 2 minutes, remove, let stand for 5 minutes (up to 2 hours), then re-fry at 375 degrees F for about 5 minutes until golden brown. Remove from fryer and drain on wire rack set over newspapers or other absorbent material.
3. Season to taste (I like just salt and pepper) and serve with yummy mayo dips...
Chipotle Mayo
or Garlic Mayo anyone?