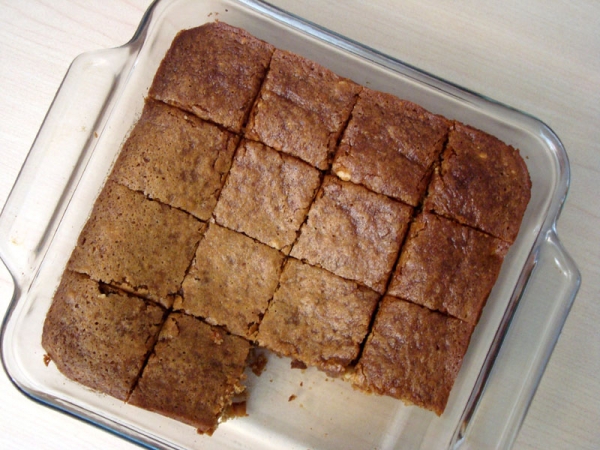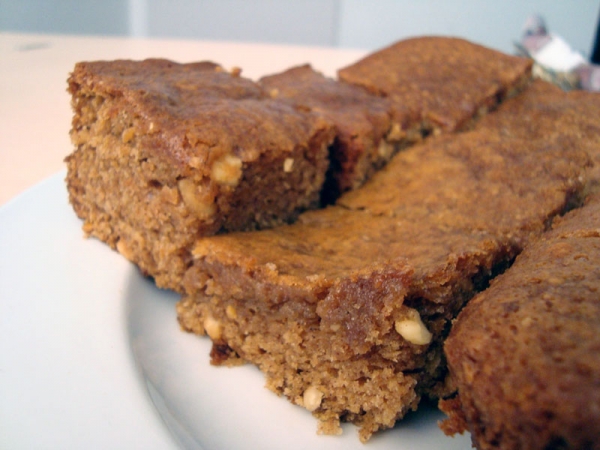 If you are even slightly interested in heirloom baking or the history of baked goods, this book is a great one to take a peek at. It's a thick book - maybe 2" thick? - but despite the plentiful information it is not boring. I found it really enlightening to see how the recipes we know today originally came to be. It was like touching a piece of the past as though through act of baking I was participating in something bigger, something woven deeply through all aspects of our history.
Besides needing food to survive, there can be great pleasure derived from eating. Food is present in every celebration or gathering. It evokes memories. Special foods are reserved for special occasions.
The description in the book reads, "The candylike batter for this cookie is made quickly in a saucepan". Well, they ain't lying. I had this ready to go into the oven before the oven had even finished preheating. There's nothing fancy about these other than the simple beauty of carmelized brown sugar with a slight nuttiness from the peanuts. At the time I made this I wasn't sure what the author meant in step 5 where you're supposed to tamp down the sides of the 'cake', so I skipped it. It was still good but in retrospect I think it might have been more "chewy" if I had used a measuring cup or back of a metal spoon to press down the finished product so it was more compact and hence, more chewy and less cake-like.
I am submitting this recipe to
Brenda's Canadian Kitchen
for Cookbook Sundays - a great, easygoing bakealong that I highly recommend joining. Brenda is an awesome cook and I had the pleasure of creating the badge below for her, so click on over and check out her site :)
Peanut Butterscotch Chews
8" pan | Baking in America
1 cup flour
1/2 tsp baking soda
1/4 tsp salt
1 tsp cinnamon
1/4 cup butter
1 cup brown sugar
1/3 cup evaporated milk
1 egg
1 tsp vanilla
1/3 cup roasted peanuts, finely chopped
1. Preheat oven to 325 degrees F. Grease an 8" square pan.
2. Combine dry ingredients.
3. In a medium saucepan over medium heat, melt butter then add brown sugar, stirring constantly. Add evaporated milk and bring to a boil for exactly 1 minute, stirring once or twice. Cool to warm.
4. Beat in egg then vanilla. Stir in flour mixture only until incorporated, then add peanuts. Scrape into prepared pan and spread evenly.
5. Bake for 30 minutes or until toothpick comes out with a few moist crumbs sticking to it. Don't overbake they should be very moist. Cool for 5 minutes then tamp down sides of the "cake" to level it. Cool completely before cutting into squares.