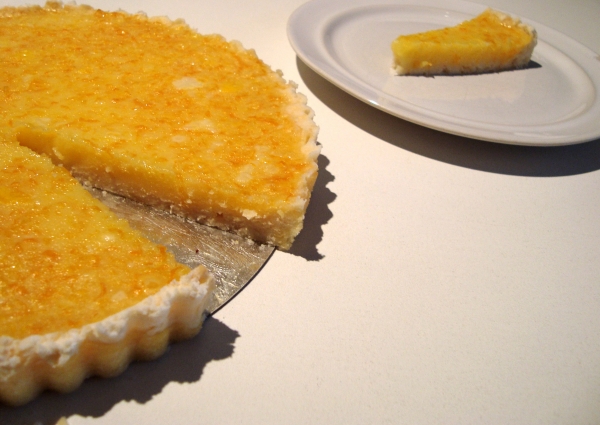 This tart was amazing through and through - From the tender, flaky shell to the tart filling dusted with powdered sugar for a touch of sweetness. I love making lemon squares and tasts like this one because they are so easy. No cooking or tempering eggs on the stove... just beat the filling ingredients together, pour into a hot crust and bake.
Presentation: Held its shape and sliced wonderfully.
Taste: Delicate yet bold.
Texture: Light, delicate crumbly crust and satiny filling.
I baked this in an 11" tart pan and had enough for a few extra mini tartlets. In my experience, tart pans, especially fluted ones, immediately up the "fancy-factor". These go from picnic to party just by changing their shape they are baked in. The recipe also halves well, just watch your baking time.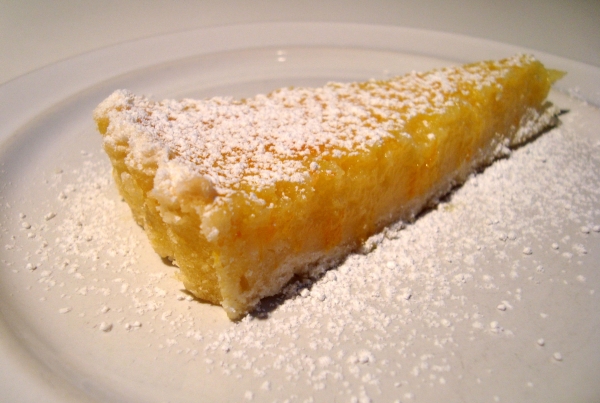 Lemon Tart
9 x 13 pan | Cook's Illustrated, May 1998
Crust
1 3/4 cups all-purpose flour
2/3 cup confectioners' sugar
1/4 cup cornstarch
3/4 teaspoon salt
3/4 cup butter, cold, cut into 1-inch pieces
Filling
6 eggs, room temperature
3 cups granulated sugar
2 tablespoons grated lemon zest
1 cup lemon juice
1 cup flour
Confectioners' sugar, for dusting
Note:
The lemon filling must be added to a warm crust. The 30-minute chilling and 20-minute baking of the crust should allow plenty of time to prepare the filling. If not, make the filling first and stir to blend just before pouring it into the crust. Store in plastic wrap, refrigerated for up to two days.
1. For the crust: Adjust oven rack to middle position and heat oven to 350 degrees. Lightly grease a 9 x 13 pan.
2. Pulse flour, confectioners' sugar, cornstarch, and salt in food processor workbowl fitted with steel blade. Add butter and process to blend, 8 to 10 seconds, then pulse until mixture is pale yellow and resembles coarse meal, about three 1-second bursts. (To do this by hand, mix flour, confectioners' sugar, cornstarch, and salt in medium bowl. Freeze butter and grate it on large holes of box grater into flour mixture. Toss butter pieces to coat. Rub pieces between your fingers for a minute, until flour turns pale yellow and coarse.) Sprinkle mixture into lined pan and press firmly with fingers into even, 1/4-inch layer over entire pan bottom and about 1/2 inch up sides. Refrigerate for 30 minutes, then bake until golden brown, about 20 minutes.
3. For the filling, whisk together the eggs, sugar, lemon zest, lemon juice, and flour. Pour over the crust and bake for 30 to 35 minutes, until the filling is set. Let cool to room temperature.
4. Dust with Confectioners' sugar and cut.