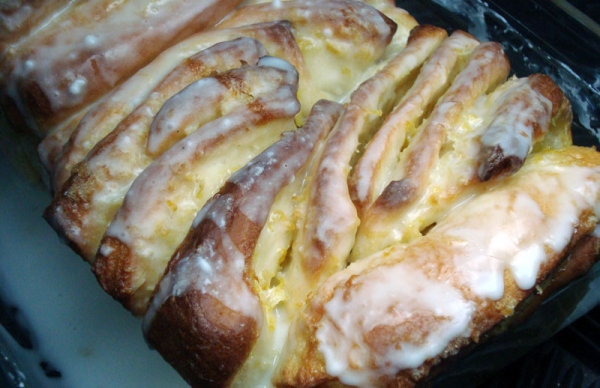 This recipe has been bookmarked for the past few months in my copy of
Baking for All Occasions
by Flo Braker. I adore making yeast bread because it is so versatile. It's the closest thing to adult play-doh! I am always game for trying new shaping methods, so this loaf practically jumped off the page, screaming to be made. Pull-apart loaves are so much fun. No knife needed; the thin layers separate easily and quite frankly, it's pretty addictive!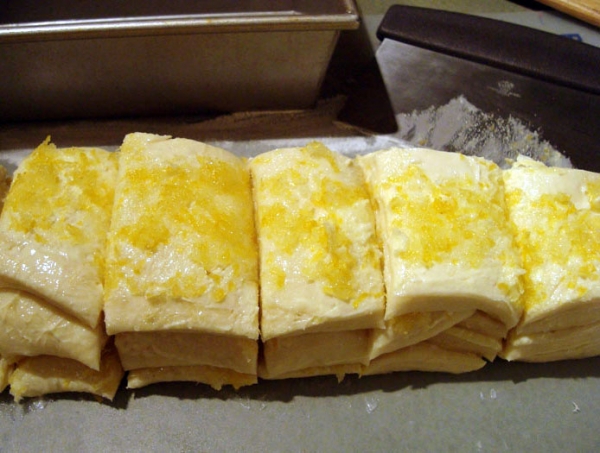 It is a beautiful, stunning loaf filled with bright and sunny lemon flavor. The loaf is made up of thin layers of sweet bread, sprinkled with aromatic lemon sugar, baked in a loaf pan. The bread is fluffy, sweet, soft, and saturated with citrus. You're able to peel off a layer, no knifes or messy rips needed. If it couldn't get better, a tangy cream cheese icing gets spread over the cooling cake, melting into the ridges, cooling into a sweet, stick mess. It's incredible.
Lemon-Scented Pull-Apart Loaf
1 9x5" loaf | adapted from Baking for All Occasions
Sweet Yeast Dough
Approx 2 3/4 cups (12 1/4 ounces) all-purpose flour
1/4 cup (1 3/4 ounces) granulated sugar
2 1/4 teaspoons (1 envelope) instant yeast
1/2 teaspoon salt
1/3 cup (2 1/2 fluid ounces) milk
2 ounces unsalted butter
1/4 cup (2 fluid ounces) water
1 1/2 teaspoons pure vanilla extract
2 large eggs, at room temperature
Lemon Sugar Filling
1/2 cup (3 1/2 ounces) granulated sugar
4 tablespoons finely grated lemon zest (4 lemons)
2 ounces unsalted butter, very soft
Tangy Cream Cheese Icing
3 ounces cream cheese, softened
1/3 cup (1 1/4 ounces) powdered sugar
1 tablespoon whole milk
1 tablespoon fresh lemon juice
1. Sweet Yeast Dough: Mix two cups flour, the sugar, yeast, and salt in a medium bowl with a rubber spatula. Meanwhile, in a small saucepan or in the microwave, combine the milk and the butter and heat until the butter is melted. Remove from the heat, add the water, and let rest a minute until just warm. Stir in the vanilla extract.
2. Pour the milk and melted butter into the flour and mix with a rubber spatula until the flour is evenly moistened. Beat in the eggs one at a time.
3. Pour the milk mixture over the flour-yeast mixture and, using a rubber spatula, mix until the dry ingredients are evenly moistened. Attach the bowl to the mixer, and fit the mixer with the paddle attachment. With the mixer on low speed, add the eggs, one at a time, mixing after each addition just until incorporated. Stop the mixer, add 1/2 cup of the remaining flour, and resume mixing on low speed until the dough is smooth, 30 to 45 seconds. Add 2 more tablespoons flour and mix on medium speed until the dough is smooth, soft, and slightly sticky, about 45 seconds.
4. Lightly flour a work surface and knead the dough gently until smooth and no longer sticky, about one minute. Add an additional 1-2 tablespoons of flour only if the dough is too sticky to work with. Place the dough in a large bowl, cover it with plastic wrap, and let it rise in a warm place for 45-60 minutes or until doubled in size. An indentation made with your finger should keep its shape.
5. Meanwhile, make the lemon sugar filling. Mix the sugar and lemon zest. It'll draw out the citrus oils and make the sugar sandy and fragrant.
6. Center a rack in the oven and preheat the oven to 350 degrees F. Grease a 9x5" loaf pan. Gently deflate the dough with your hand. Flour a work surface and roll the dough into a 20″ x 12″ rectangle. The more accurate you are, the prettier the loaf will be and the better it will fit in the pan. Use a rubber spatula or pastry brush to spread the butter evenly and liberally over the dough.
7. Use a pizza cutter to cut the dough crosswise in five strips, each about 12″ by 4″. Sprinkle 1 1/2 tablespoons of the lemon sugar over the first buttered rectangle. Top it with a second rectangle, sprinkling that one with 1 1/2 tablespoons of lemon sugar as well. Continue to top with rectangles and sprinkle, so you have a stack of five 12″ by 4″ rectangles, all buttered and topped with lemon sugar.
8. Slice this new stack crosswise, through all five layers, into 6 equal rectangles (each should be 4″ by 2″) Carefully transfer these strips of dough into the loaf pan, cut edges up, side by side. You might have some extra room around the edges but the bread will rise and expand during baking. Loosely cover the pan with plastic wrap and let the dough rise in a warm place until puffy and almost doubled in size, 30 to 50 minutes. When you gently press the dough with your finger, the indentation should stay.
9. Bake the loaf until the top is golden brown, 30 to 35 minutes. Test with a cake tester to make sure it's done, and covering the top with foil if it's browning too quickly. Transfer to a wire rack and let cool in the pan for 10 to 15 minutes.
10. While cake is cooling, make the cream cheese icing. Beat the cream cheese and powdered sugar in a medium bowl with a wooden spoon until smooth, then add the milk and lemon juice. Stir until creamy and smooth.
11. Carefully run a knife around the edges of the pan to release. Flip the loaf over onto a cooling rack, then flip onto another rack so that it's right side up. Spread the top of the warm cake with the cream cheese icing, using a pastry brush to fill in all the cracks. Put a pan or waxed paper underneath to catch any drips. Serve warm or at room temperature. You can also cut the cake with a knife, but wait for it to cool if you plan to do so.