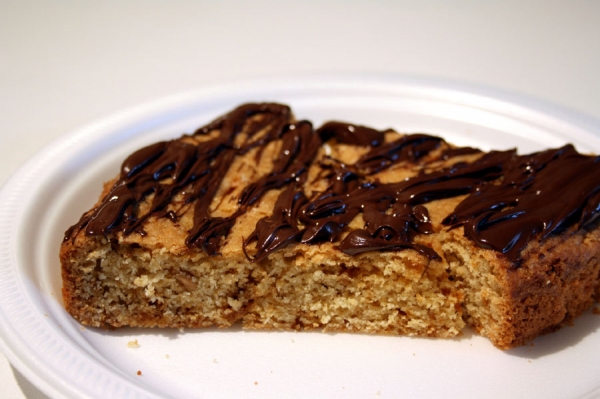 These are pretty much a toffee infused version of a blondie. A simple bar cookie dressed up with homemade
toffee
pieces. It's so cheap to make your own, but you could just as easily use storebought toffee bits or crushed Heath/Skor bars.
The simple drizzle of melted chocolate on top makes these party presentable while still being picnic portable. Or you can just bake them as regular drop cookies for everyday snacking.
English Toffee Cookie Wedges
2 – 9" round pans (with a little left over) | adapted from 400 Sensational Cookies
2 3/4 cups flour
2 tsp baking powder
1/4 tsp baking soda
1/4 tsp salt
1 cup butter, softened
2/3 cup sugar
2/3 cup brown sugar
2 eggs
2 tsp vanilla
2 cups toffee bits
1/2 cup chopped unsalted almonds
3/4 cup semisweet chocolate or chocolate chips
1 tsp shortening
1. Preheat oven to 350 degrees F. Combine flour, powder, soda, salt.
2. Cream butter and sugars until light and fluffy. Add eggs and vanilla until well combined. Add in vanilla then flour mixture, scraping down sides of bowl.
3. Scrape cookie dough into two lightly greased 9" round pans. You might have a bit of extra dough for a few extra cookies to bake on their own later. Or, if you don't want to bake these as wedges then drop them by the tablespoon onto cookie sheets as you would chocolate chip cookies.
Spread dough evenly in the pans. Bake for approximately 15 minutes until lightly golden. *Watch the temperature and time on these – you might need to turn the oven down to 325 if they are browning too quickly.
4. Cool until they are firm enough to invert onto a cooling rack then continue to cool thoroughly. Cut into wedges
5. Melt the chocolate with the shortening and drizzle over top then let stand to set.