This week, Leslie of Lethally Delicious decided on Tarte Fine on page 315.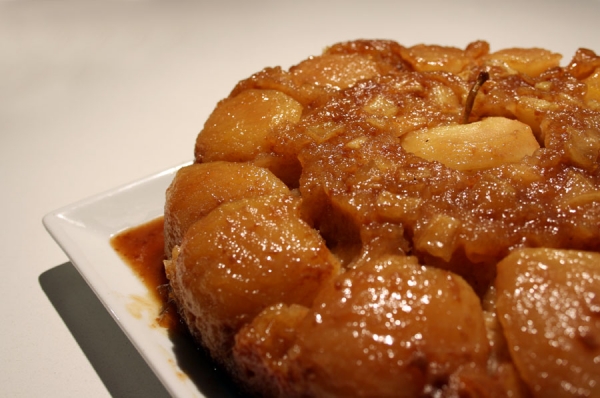 Confession: I had a puff pastry dilemma this week - To buy or to make? I really didn't want to buy it when I know I can make it for cheaper and better at home, but then I ran outta time because of my indecision and procrastination. So, I apologize, there is no Tarte Fine aux Pommes for moi this week.
Instead, I made this deliciously moist, super-cute apple cake that tastes just like a caramel apple. There's a nice, thick layer of sugar and butter that gets put into the pan first. This carmellizes in the oven creating a gooey, caramelly topping after it's baked. The apples soften up and absorb some of the caramel during baking. They are tender and flavorful gems on the top of the cake. Psst...see the middle of the cake? The centre apple has still got its stem. :)
Caramel Apple Upside Down Cake
9" cake | adapted from Land-o-Lakes
1/2 cup firmly packed brown sugar
3 tablespoons cold butter, cut into cubes
3 Granny Smith apples, peeled, cored, sliced
1 1/2 cups all-purpose flour
1 teaspoon baking powder
1/2 teaspoon salt
1/2 tsp cinnamon
2/3 cup firmly packed brown sugar
1/3 cup butter, softened
1 egg
1 teaspoon vanilla
1/2 cup milk
1/4 cup caramel sundae topping
Heat oven to 350 degrees F. Place 1/2 cup brown sugar in small bowl; cut in 3 tablespoons butter with pastry blender or fork until mixture resembles coarse crumbs. Press onto bottom of greased 9" round cake pan. Arrange apple slices on top. Set aside.
Combine flour, baking powder and salt in medium bowl. Set aside.
Combine 2/3 cup brown sugar and 1/3 cup butter in another medium bowl. Beat at medium speed, scraping bowl often, until creamy. Add egg and vanilla; continue beating until smooth. Add flour mixture alternately with milk until well mixed.
Spoon batter over apple layer; spread evenly. Bake for 40 to 45 minutes or until toothpick inserted in center comes out clean. Cool 5 minutes; invert onto serving plate. Serve warm or cool, drizzled with caramel topping.