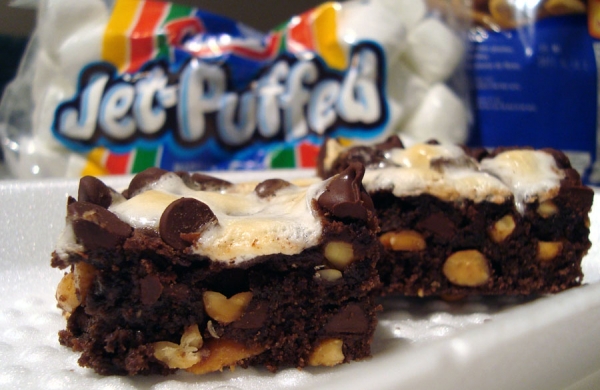 The popular kids ice-cream flavor has been turned into a bar cookie! These flavors appeal to my inner child while the use of almonds instead of peanuts makes them more of a 'grown up' bar.
They are also very attractive, showing off their chunky contrast of textures and colors from the nuts, chocolate chips and marshmallows. The brownie part holding all these goodies together is fudgy and moist. The recipe comes from
The King Arthur Flour Cookie Companion
.
Note: In the printed version of this recipe the baking time is wrong. It says 15 minutes but
online
it says 22 minutes. I ended up baking mine for 24 minutes and they were perfect. Use your own discretion and just bake them until they are almost done but not quite. All you are doing after you add the marshmallows/chips is browning the marshmallows and melting the chips slightly. The actual brownie part should be basically done by that point or you risk burning the topping before the base is ready.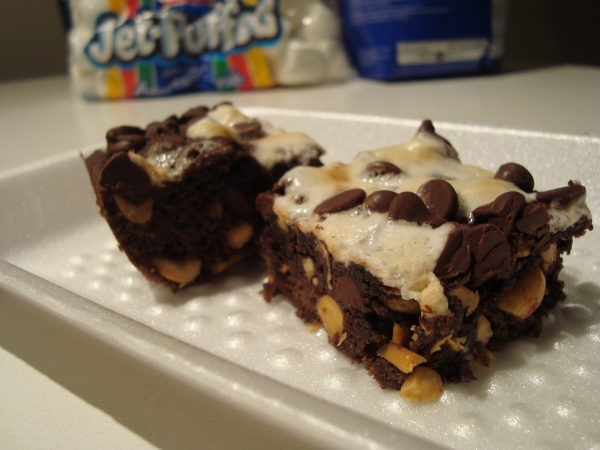 Rocky Road Brownies
9 x 13 pan | King Arthur Flour Cookie Companion
1 cup (2 sticks, 8 ounces) butter
1/2 cup (3 3/4 ounces) brown sugar
1/2 cup (3 1/2 ounces) granulated sugar
2 teaspoons baking powder
1/2 teaspoon salt
1 teaspoon vanilla extract
2 large eggs
1 2/3 cups (7 ounces) All-Purpose Flour
1/3 cup (1 ounce) Dutch-process cocoa
3 cups (18 ounces) chocolate chips
1 cup (4 ounces) roasted salted almonds, coarsely chopped (or peanuts)
1 cup (2 ounces) miniature marshmallows
Preheat the oven to 350 degrees F. Lightly grease a 9 x 13-inch pan.
Cream together the butter, sugars, baking powder, salt, and vanilla. Beat in the eggs. Stir in the flour, cocoa, 2 cups of the chocolate chips, and the almonds.
Pat the dough into the prepared pan. Bake the bars for 22-25 minutes, till they're set around the edge but still soft in the center. Sprinkle with the remaining chocolate chips and the marshmallows, and bake till they soften, about 3 minutes more. Remove from the oven and cool completely before cutting into bars. (Using a plastic knife to cut these is the neatest way I have found to do this).