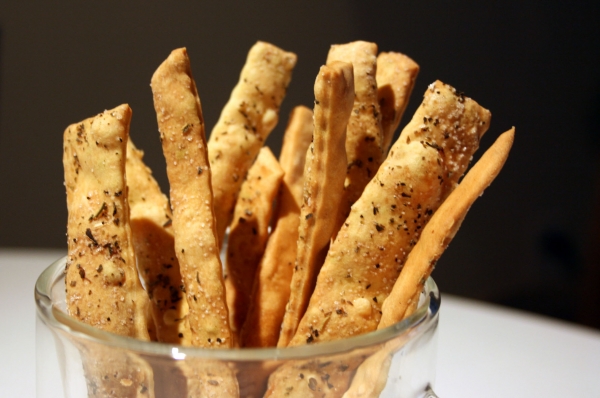 These thin and snappy crackers are crisp, fragrant and addictive. They are infinitely versatile and easily adorned with seeds, salts, cheeses, spices, or oils to suit any menu. You can make them any shape: wide strips, thin ribbons (my fave), squares or simply baked in big sheets. Just right for nibbling.
The recipe is adapted from
Ottolenghi: The Cookbook
. This popular restaurant,
Ottolenghi
, has stores in London and believes in everything handcrafted from raw ingredients. Simple and clean. I've never even set foot in one of their stores but I love the style of the cookbook and their philosophy. And oh yes, the cracker recipe is a keeper too!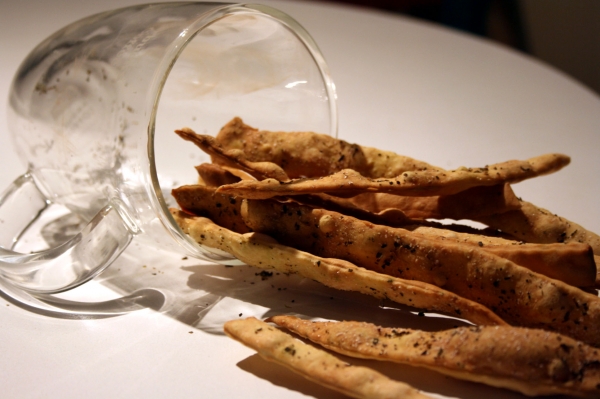 Olive Oil Crackers
adapted from Ottolenghi
1 cup flour
1 teaspoon baking powder
1/2 cup water
2 tablespoons olive oil + oil for brushing
salt
seeds/spices/seasonings
Sift flour with baking powder into a bowl. Make a well in the centre and pour in water and olive oil. Work to a dough, then turn out and knead on a very lightly floured bench until smooth. Wrap in plastic and refrigerate for 1 hour.
Preheat oven to 425 F and line a baking sheet.
Dust the bench and keep the flour close to hand. Divide dough into thirds. Roll each third out right on the baking sheet into a very thin rectangle. The thinner the better. Dust with flour as you work. Cut as desired with a pastry cutter or cookie cutters and space them apart slightly on the baking sheet (they won't spread much). Brush liberally with olive oil and sprinkle with coarse sea salt or whatever you like. Bake in batches for 6-8 minutes closely monitorting their progress. Pale gold is good; deep gold is burnt. Cool on a rack.