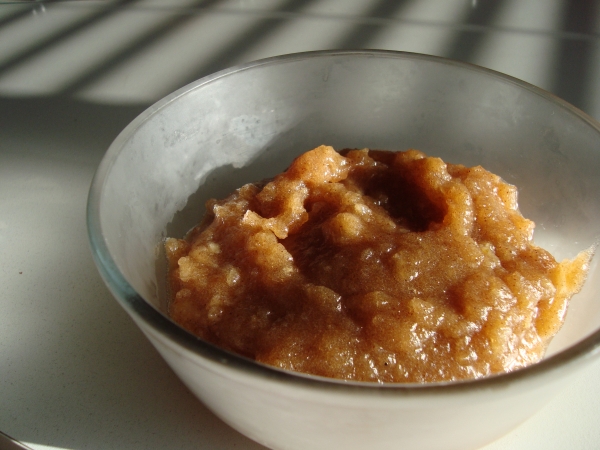 I am sooo excited because it's apple season again! To me, the scent of apples and cinnamon is one of my very favorite combinations. The sweet and spicy combination is a hallmark Autumn scent and it makes all the rainy weather and "back to school blues" just that much more tolerable. Just knowing that a whole season of apple pies, cakes, squares and cookies lies ahead makes me happy.
On the weekend I made honey spice apple butter from Fine Cooking magazine. Apple butter is essentially a thicker and spicier version of applesauce, traditionally made by slow-cooking sliced or pureed apples in copper kettles for up to 12 hours or more. The apples are constantly stirred with long paddles. The heat causes the fruit's natural sugars to caramelize, thus giving apple butter its distinctive deep brown color. It goes wonderfully on toast and can also be used to complement and heighten the flavor of apple recipes or to replace some of the fat in muffin and cake recipes.
I am submitting this to Ivonne of
Cream Puffs in Venice
for Magazine Mondays.
Honey-Spice Apple Butter
Makes 1 1/2 cups | adapted from Fine Cooking, October 2004
2 lbs apples, peeled, cored, and cut into 1-inch chunks
1 cup apple cider
1/4 cup dark brown sugar
1/4 cup honey
1/8 tsp cinnamon
pinch ground cloves, all-spice and/or nutmeg (to taste)
pinch salt
Combine the apples and cider in a heavy 3-quart saucepan. Bring to a boil over medium-high heat and then reduce the heat to a maintain a simmer. Cook, stirring occasionally, until the apples have mostly broken down, about 30 minutes.
Use a rubber spatula to force the mixture through a medium sieve into a bowl. Rinse out the saucepan and return the mixture to the pan. Whisk in the brown sugar, honey, cinnamon, allspice, and salt. Bring back to a simmer over medium heat and adjust the heat to maintain a vigorous simmer. Cook until the mixture reduces and thickens to a spreadable consistency, about 75 minutes.
As the mixture cooks, stir occasionally at first and then more frequently as it thickens; keep in mind that the apple butter will thicken a little more as it cools. Scrape the apple butter into a storage container and press a piece of plastic wrap directly on the surface to prevent a skin from forming as it cools. Once completely cool, you can remove the plastic, cover with a lid, and refrigerate for up to two weeks.