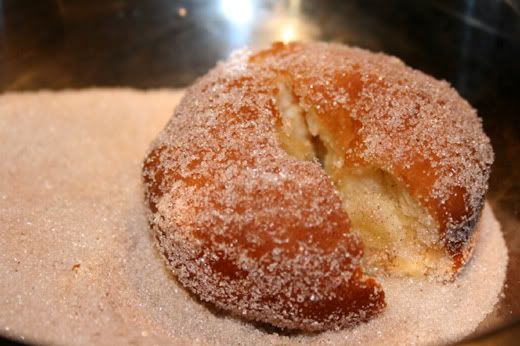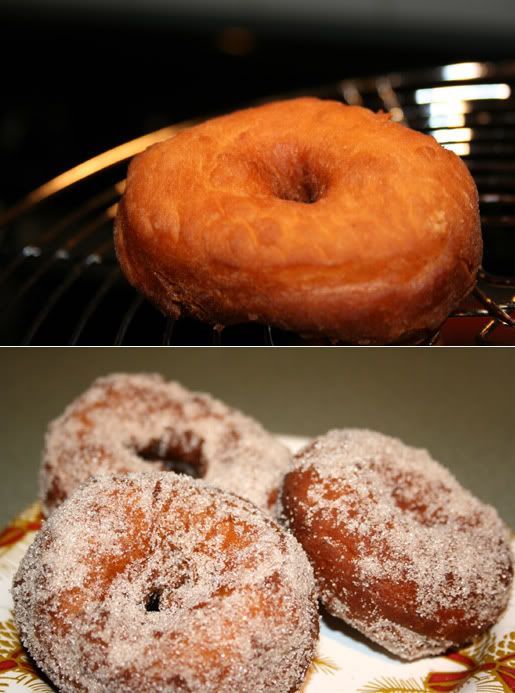 The October 2010 Daring Bakers challenge was hosted by Lori of Butter Me Up. Lori chose to challenge DBers to make doughnuts. She used several sources for her recipes including Alton Brown, Nancy Silverton, Kate Neumann and Epicurious.
I have been meaning to make donuts for a long time but kept putting off because it involved deep frying. But I have since overcome my fear of hot oil and have come to embrace its yummy goodness.
I used a cake donut recipe from Canadian Living magazine. I would have preferred to try a yeasted donut but didn't plan well enough ahead of time. These came together as easily as pancake batter, however, they required a 1 hour rest in the fridge. I am THRILLED with how they turned out. Super cute, 1 1/2" donuts or as the recipe directs, donut holes. I used my fingers to shape them.
My dad preferred them without the sugar, opting to have them dunked in his tea like a biscuit. Overall, a success! I will definitely be trying a yeasted version in the future and perhaps experimenting with a
Krispy Kreme Copycat
recipe.
Cake Donuts
from Canadian Living
3 cups flour
1 tbsp baking powder
3/4 tsp salt
1/2 tsp grated nutmeg
1/2 cup light cream (10% M.F.)
1/2 cup heavy cream
1 tsp vanilla
3 eggs
1 cup granulated sugar
Canola oil or safflower oil or vegetable oil, for deep-frying,
Cinnamon Sugar for coating
Preparation:
In bowl, whisk flour, baking powder, salt and nutmeg. In small bowl, whisk 10% and whipping creams and vanilla. Set aside.
In large bowl, beat eggs with sugar until pale; gradually beat in cream mixture. Stir in flour mixture to make soft sticky dough. Cover and refrigerate for 1 hour.
Spray a mini (1 tbsp) ice-cream scoop or 1 tbsp measure with nonstick spray. In deep fryer or deep saucepan, heat 2 inches oil until deep-fryer thermometer reads 350 degrees F. Drop batter by tablespoonfuls into oil, 6 at a time; deep-fry, turning once, until golden and puffed, 3 to 4 minutes. With slotted spoon, transfer to paper towels to drain. Transfer to rack; let cool slightly then toss in cinnamon sugar to coat.