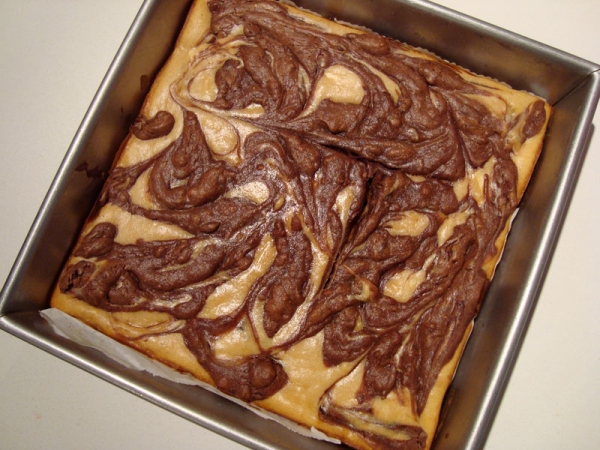 We are officially in October! Canadian Thanksgiving is less than 2 weeks away and I'm getting excited about all the holiday baking that lies just around the corner, especially the holiday cooking magazines and special publications. I look forward to embracing the smells, tastes and comforts of the cooler, fall weather.
When I think of brownie recipes (or bar recipes in general) I usually prefer ones with shorter ingredients lists and uncomplicated instructions. The shorter, the sweeter. I usually flip or click away from brownie recipes that look too long and involved. However, these pretty swirled ones caught my attention and in reality the long ingredient list and seemingly directions aren't so long after all. It goes by pretty quickly and the batters swirl together beautifully to create a satisfyingly elegant, marbled look. The cheesecake topping holds its shape even when sliced, which gives these bars nice, clean edges and a neat presentation. A tastebud warning: Don't expect an overwhelming Peanut Butter flavor to these. The taste is more subtle and closer cheesecake than to peanut butter. I think they are a nice change the more commonly seen over the top peanut butter-packed desserts.
Peanut Butter and Chocolate Cheesecake Brownies
9" Square Pan | Bon Appétit, Jan. 2009
Brownie layer:
Nonstick vegetable oil spray
8 ounces bittersweet chocolate, chopped
1/2 cup (1 stick) unsalted butter
1/2 cup sugar
2 large eggs
1 teaspoon vanilla extract
1/2 cup all purpose flour
1/4 teaspoon salt
Cheesecake layer:
1 8-ounce package cream cheese, room temperature
2/3 cup creamy peanut butter
1 teaspoon vanilla extract
1/2 cup sugar
2 large eggs
2 tablespoons heavy whipping cream
2 tablespoons all purpose flour
2 ounces bittersweet chocolate, chopped
Directions
1. For brownie layer: Position rack in center of oven and preheat to 325 degrees F. Grease and line a 9" square pan.
2. Stir chocolate and butter in medium saucepan over low heat until smooth; cool 10 minutes. Using a mixer or a whisk, beat sugar, eggs, and vanilla in medium bowl until pale and fluffy. Beat in chocolate mixture then beat in flour and salt. Spread batter in pan.
3. For cheesecake layer: Using electric mixer, beat cream cheese, peanut butter, and vanilla in medium bowl until smooth. Gradually add sugar, beating until fluffy. Beat in eggs 1 at a time. Beat in cream, then flour. Spread the cheesecake batter over the brownie layer, reserving 1/3 cup of the batter.
4. Place chocolate in small microwave-safe bowl. Microwave on low power in 10-second intervals until chocolate begins to melt, then stir until smooth. Mix chocolate into reserved 1/3 cup cheesecake batter. Drop chocolate batter by heaping teaspoonfuls over the cheesecake layer. Using a thin knife, marble the chocolate and cheesecake layer together.
5. Bake brownies until edges are puffed and center is set, about 40-45 minutes. Cool brownies in pan on rack. Cover; chill fully - at least 1 hour. Serve cold.