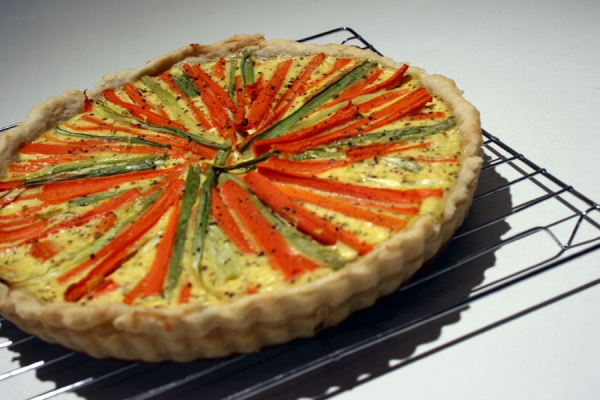 This is my first French Fridays (FF) post! We are starting in on Dorie Greenspan's new book -
Around My French Table
(AMFT).
I'm especially excited because Dorie selected the October 2010 recipes herself! It's so cool to have the author interacting with our blogalong group. To be honest, I would have never bought this book if not for this group.
1) I prefer baking over cooking
2) I'm not a huge fan of French food
But I *AM* a huge fan of Dorie's, so here I am. Challenging myself and widening my palate's horizons. This tart was a nice ease-into the group. It was something I'm used to; Something a lot like a quiche. I used 1/2 the amount of mustard called for in the recipe because I served it to my 3 year old and didn't want to overwhelm his tastebuds. It was fragrant and delicious in its balance of smooth, eggy filling and al dente crunch of the carrots and leeks.
Now that I've got my feet wet I'm looking forward to the other recipes this book has to offer. The beautiful food photos alone are worth the $25 in my opinion.