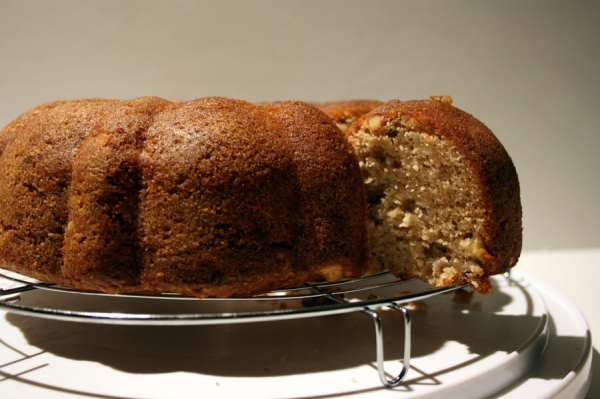 This week I did something a little different. It's still along the same TWD theme, but the apple bundt cake is not from our bakealong book. However, it is still a delicious apple Bundt cake recipe by our beloved Dorie, just from a different book. For the actual TWD recipe this week, Lynne of Honey Muffin chose Double Apple Bundt Cake on pages 184 and 185.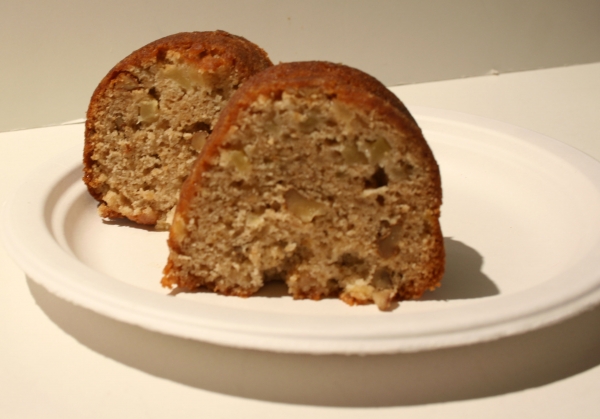 I was at the library a few days ago with my son when I saw this older book by Dorie Greenspan called
Sweet Times: Simple Desserts for Every Occasion
, published 1991. Being a devoted Dorie fan, I just had to borrow it. While Zach played with Thomas the Train I thumbed through the book, making mental bookmarks. It's a small book with a lot of classic recipes such as Bran Muffins and Cream Scones. It also has some recipes which are reprinted in her newer and more well known book,
Baking: From My Home to Yours
. It was an interesting book to skim but not to buy, especially if you already own "Baking".
Dorie says this cake is even better after it has had a chance to rest for a day and for the flavors to develop. This moist, tender cake had a lovely, complex mix of flavors. I used my easy, home made
Honey Spiced Apple Butter
for this cake, but I'm sure applesauce with some extra cinnamon would also work. If you like apple butter, also check out these
Apple Butter Cookies
from Anna Olson of the Food Network Canada- they are wonderfully spiced, moist and remind me of muffin tops!
Apple Butter Bundt Cake
1 - 10" Bundt | Sweet Times by Dorie Greenspan
1/2 cup + 2 tbsp butter, softened
1 1/2 cups sugar
2 eggs
1 cup apple butter
2 cups flour
1/2 tsp baking soda
2 tsp baking powder
1 tsp cinnamon
1/2 tsp nutmeg
1/4 tsp ground ginger
1/4 tsp salt
2 apples, finely chopped or grated
1 cup walnuts
1. Preheat oven to 350 degrees F. Grease and flour a 12 cup Bundt pan.
2. Cream together butter and sugar with an electric mixer. Add eggs and continue to beat. Add apple butter and mix until combined.
3. In a separate bowl, combine all dry ingredients. Add dry ingredients to the butter/sugar mixture and mix until just combined. Fold in apples and walnuts. Transfer batter to prepared Bundt pan.
4. Bake for 55-60 minutes or until cake tester comes out clean. The flavors of this cake are even better the day afterwards.