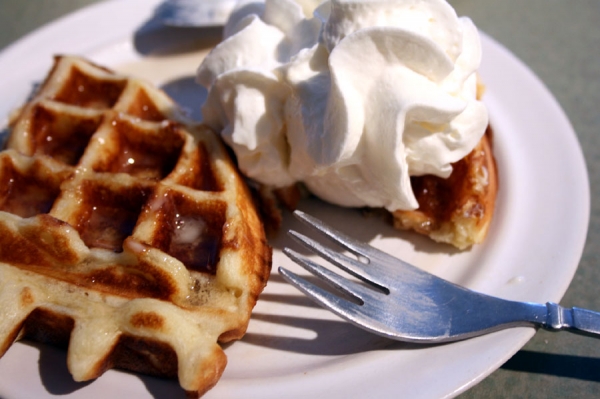 This tried and true recipe, originally from Marion Cunningham, has David Lebovitz's stamp of approval
here
. They are easier than pancakes and you can prep the night before to wake up to worry-free waffles that are crispy and golden outside, and moist and soft inside.
Belgian waffles use a yeast-leavened batter which makes them lighter, thicker, and crispier. The waffle irons also make bigger, deeper pockets. American waffles are made from a batter leavened with baking powder and are usually served topped with butter and syrups. They are generally denser and thinner than the Belgian waffle.
I freeze leftover waffles. Then on weekday mornings I nuke them for 20-30 seconds, pop them in the toaster and serve em up. They're almost as good as fresh and definitly better than Eggo.
Raised Overnight Waffles
Fannie Farmer Cookbook
1/2 cup warm water
1 package dried yeast
2 cups warm milk
1/2 cup melted butter
1 teaspoon salt
1 teaspoon sugar
2 cups all-purpose flour
2 large eggs
1/4 teaspoon baking soda
Use a large mixing bowl. The batter will rise to double its original volume. Put the water in the mixing bowl and sprinkle in the yeast. Let stand to dissolve for 5 minutes. Add the milk, butter, salt, sugar, and flour to the yeast mixture and beat until smooth and blended (I do this by hand). Cover tightly and let stand overnight in the fridge.
Take it out 1 hour before you plan to use it. Just before cooking the waffles, beat in the eggs and add the baking soda and stir until well mixed.
The batter will be thin.
Pour into a very hot waffle iron (amount of batter will vary based on your iron). Bake until golden and crisp. This batter will keep for a few days in the refrigerator.