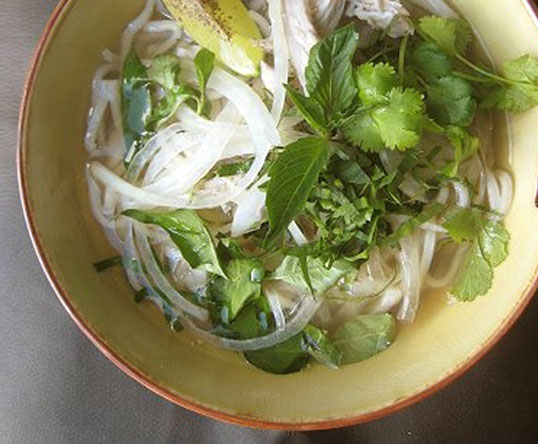 This soup reminded me a lot of the "Pho Ga" at the Vietnamese restaurant in our neighborhood. Our family loves Pho. We love it so much that we usually just order the noodles and soup, no meat. In the non-meat version, tthey usually add broccoli florets and carrots to the broth and cook until crisp tender. I'm not sure if that's authentic Vietnamese, but I love how the veggies soak up all the yummy soup flavors and yet retain their crispness and brightness. I meant to add some to this soup but alas, I forgot at the last minute. I did however intentionally leave out the spicy stuff because I'm a wimp. This tasted excellent with a few squirts of Hoisin sauce and some extra soy sauce.
The recipe can be found in Dorie Greenspan's new book:
Around My French Table: More Than 300 Recipes from My Home to Yours
. Once you have this book, be sure to join in the cookalong at
French Fridays with Dorie
.
Also please check out my new group -
The Copycat Club
- and send me links to your copycat posts for a monthly round-up. The first round-up was on October 7th
HERE
. We're going to make restaurant faves in our own kitchens and share our adventures and successes. Contact me at starrysugar@hotmail.com or leave me a comment on the
Copycat Club
page to grab the badge and be added to the blogroll.