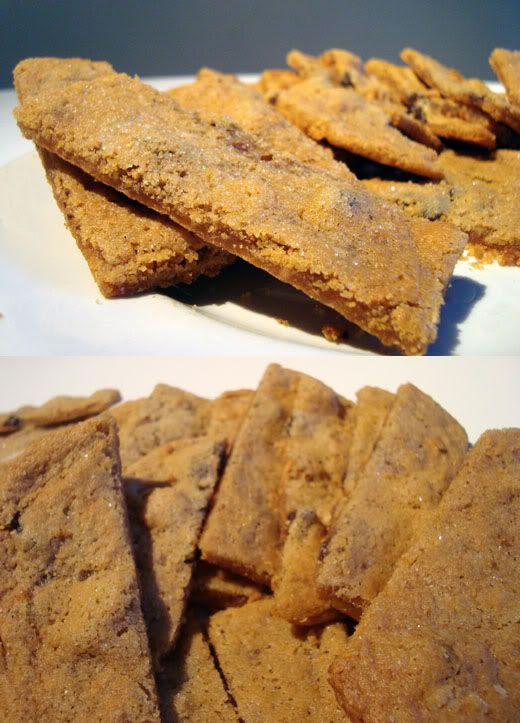 These were supposed to be individual cookies but they spread so much they ended up being one giant cookie which I cut into fingers with a pizza wheel. Appearance-wise, not so pretty. Tastewise, heavenly! These cookies are thin, flat and very bendy. Not crisp, not puffy, not crunchy, not cakey, not fudgey. Just thin and bendy. Does that make sense?
This is the kind of recipe thas is destined to make soft cookies.... ie. it would be really hard to make a crispy cookie from this recipe even if overbaked. Don't ask me about the recipe science behind that statement, that's just my observation :)
Even if you don't like peanut butter much, still give these a try. They're not too peanut buttery, but having the pb in there helps give them their awesome texture.
Bendy PB Chocolate Cookies
Makes 24 - 2" cookies
1/2 cup butter
1/2 cup sugar
1/2 cup brown sugar
1/2 cup peanut butter
1 egg
1 tsp vanilla
3/4 cup flour
1/2 tsp baking soda
1/4 tsp salt
1/2 cup semi-sweet chocolate chips
1/2 cup chopped peanuts (honey roasted is nice)
1. Preheat oven to 350 degrees F.
2. Cream together butter, peanut butter and sugars. Add egg and vanilla. Combine fully.
3. Stir together all dry ingredients including chips and nuts in a separate bowl then dump into butter mixture. Combine fully using a wooden spoon.
4. Drop by teaspoonfuls onto ungreased pan. Leave space - they spread! Flatten with a fork dipped in sugar. Bake 10-15 mins until edges are golden brown.