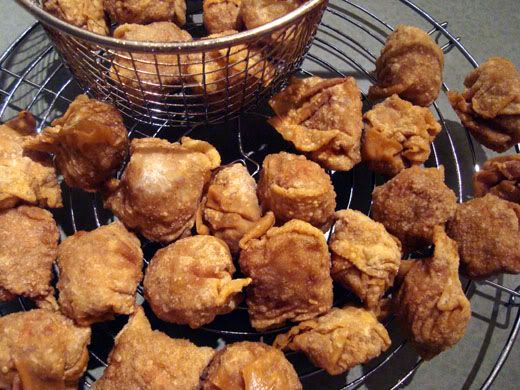 I used my new deep fryer for the first time! I have a
Presto 1L deep fryer
which I bought on Black Friday. I feel kinda trashy saying that I bought a deep fryer! LOL -
These days with everyone being health-conscious and intently watching their food intakes I feel guilty for indulging in the act of deep-frying. But, truth be told, I am in love. I'm keenly on the lookout for deep fried food recipes since all I can think about is using it again and swooning about the goodies I can make with my new favorite appliance.
I made deep fried wontons last night and they turned out so crispy and perfect that I just had to blog about them (even though they are not a dessert and this blog was meant to be mainly for sweets). These wontons would be great as an appetizer too. Heated up in the toaster oven the second day they are just as crisp and delicious. Surprisingly, they were not too time consuming to make and wrap and since you can prep them ahead of time and freeze them, they could even become part of a quick and easy weeknight menu!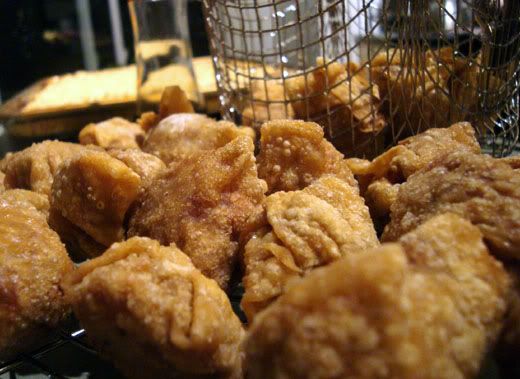 Fried Wontons
Makes approx. 50 | Adapted from Joy of Cooking
1 pound ground pork or chicken
4 stalks scallion, finely minced
2 tbsp corn starch
3 tablespoons soy sauce
2 teaspoons rice vinegar
2 teaspoon sugar
2 teaspoons sesame oil
1 tsp salt and pepper
1/2 cup water chestnuts, finely chopped (or celery)
4 tbsp minced carrot
1 pkg wonton wrappers, covered with a damp towel (I used about 50 pcs)
1 egg, beaten
Combine all ingredients except for wonton wrappers and egg.
Working in batches of 10, place a teaspoon of filling in th emiddle of each wonton skin. Moisten edges of wrapper with beateh egg and fold the corners together to form a little pouch. Place in a large bowl while you fill the rest of them. (At this point they can be frozen and cooked at a later date).
To fry: Heat oil to 375 degrees F and place wontons in for about 4-5 minutes per batch or until cooked through. They will be a dark golden brown. Remove and drain on paper towel.
***Alternatively, for a healthier meal, you could make wonton soup. Boil these instead in chicken stock until they are cooked.