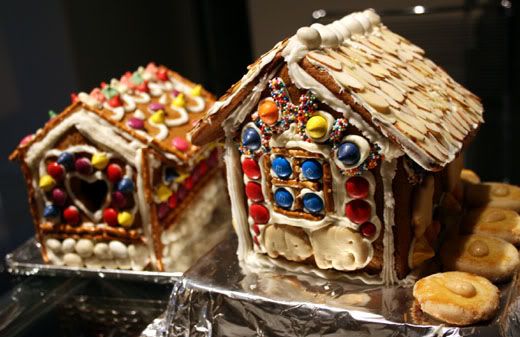 The December 2009 Daring Bakers' challenge was brought to you by Anna of Very Small Anna and Y of Lemonpi. They chose to challenge Daring Bakers' everywhere to bake and assemble a gingerbread house from scratch. They chose recipes from Good Housekeeping and from The Great Scandinavian Baking Book as the challenge recipes.
Every Christmas I make a gingerbread house with my sister. It's fun but I have to psych myself up for the long process of making the dough, chilling it, making my template, rolling and cutting the dough, baking it, cooling it, assembling it then FINALLY decorating it. I know I could cheat and buy a gingerbread house kit but they taste terrible and I can't bring myself to spend money on something I could make better myself.
I love baking way more than I like decorating (which I find to be messy, time consuming and fiddly). I'd much rather sink my hands into a big ball of dough and knead away. However, because of this DB challenge and the fact that my son wanted to do a gingerbread house, there was no skipping it this year. I made 3 small houses so everyone could use their own creative flair.
We really were down to the wire this year. It felt like Christmas snuck up on us way too soon. We only finished making these on Christmas morning after breakfast!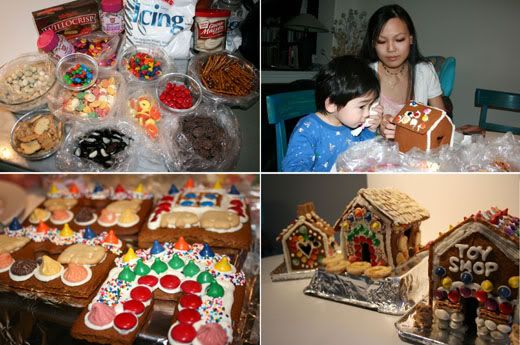 The recipe I've used for 9 years is
here
, from Allrecipes.com. It produces a cookie full of spice, soft and tender yet sturdy enough to build into houses. We always eat our houses because are too yummy to waste! This recipe tastes as good as it looks and the dough can be refrigerated for 3-5 days before baking for easy prep during a busy time of year. One of my friends begs me for these cookies every year. My mom likes them so much she'd rather eat them without icing so she can taste the gingerbread without any distractions. Highly recommended. I tripled the recipe for my 3 small houses but you could just double it if you are making one standard sized house.
Tip: Tie the pastry bag with a rubber band to prevent it from oozing out the top when squeezed by little hands.
Gingerbread Cut-Outs
24 -2" gingerbread men
1/2 cup margarine
1/2 cup sugar
1/2 cup molasses
1 egg yolk
2 cups sifted all-purpose flour
1/2 teaspoon salt
1/2 teaspoon baking powder
1/2 teaspoon baking soda
1/2 teaspoon ground cinnamon
1 teaspoon ground cloves
1 teaspoon ginger
1/2 teaspoon ground nutmeg
1.In a large bowl, cream together the margarine and sugar until smooth. Stir in molasses and egg yolk. Combine the flour, salt, baking powder, baking soda, cinnamon, cloves, ginger, and nutmeg; blend into the molasses mixture until smooth. Cover, and chill for at least one hour.
2.Preheat the oven to 350 degrees F (175 degrees C). On a lightly floured surface, roll the dough out to 1/4 inch thickness. Cut into desired shapes with cookie cutters. Place cookies 2 inches apart on ungreased cookie sheets.
3.Bake for 8 to 10 minutes in the preheated oven, until firm. Remove from cookie sheets to cool on wire racks. Frost or decorate when cool.