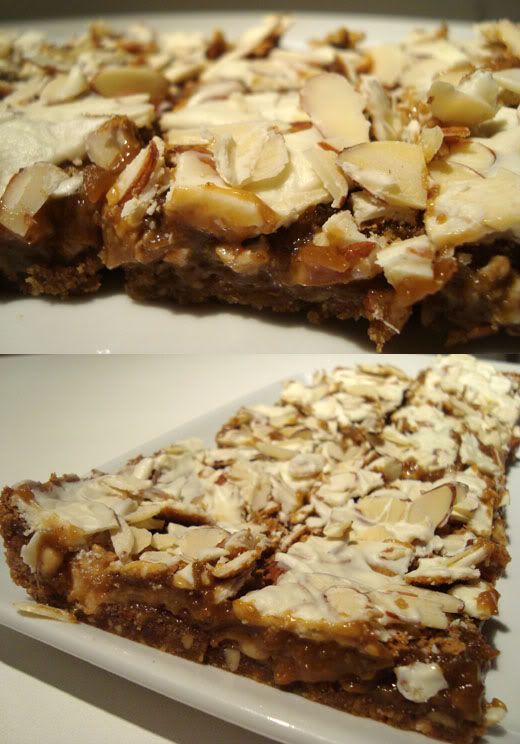 I have been really into baking bar cookies lately. Maybe it's because they are so easy and quick and tend to be a favorite on party platters. They are so unassuming - innocent little squares bursting with goodies. I think any cookie recipe can be adapted to take on a bar form.
Psst... 2 days until Christmas!
Caramel Cappuccino Bars
9x13" pan | Adapted from "Bars and Squares"
Crust:
1/2 cup butter
3/4 cup brown sugar
2 tsp instant espresso powder
1 1/4 cups flour
1/3 cups ground almonds
2/3 cups toffee bits
Topping:
1 tbsp instant espresso powder
2 tsp hot water
1 cup sugar
2/3 cup sweetened condensed milk
3 eggs
2 tbsp flour
1/2 tsp baking powder
8 oz. white chocolate, chopped
1/3 cup toffee bits
1/4 cup slivered almonds
1. Preheat oven to 325 degrees F. Grease or line a 9x13 inch pan.
2. Crust: Combine all ingredients with an electric mixer (paddle attachment) until thoroughly blended. Press into prepared pan lightly and bake until lightly browned, 12-15 minutes.
3. Topping: Dissolve espresso powder in hot water. Whisk in sugar, condensed milk and eggs until smooth. Whisk in flour and baking powder. Mix well. Pour evenly over baked crust. Return to oven and bake for 25-30 minutes, until topping is golden. Remove and immediately sprinkle with white chocolate. Let it sit for about 3 minutes to soften/melt then spread out with an offset spatula. Sprinkle toffee bits and almonds over chocolate before it cools and sets.