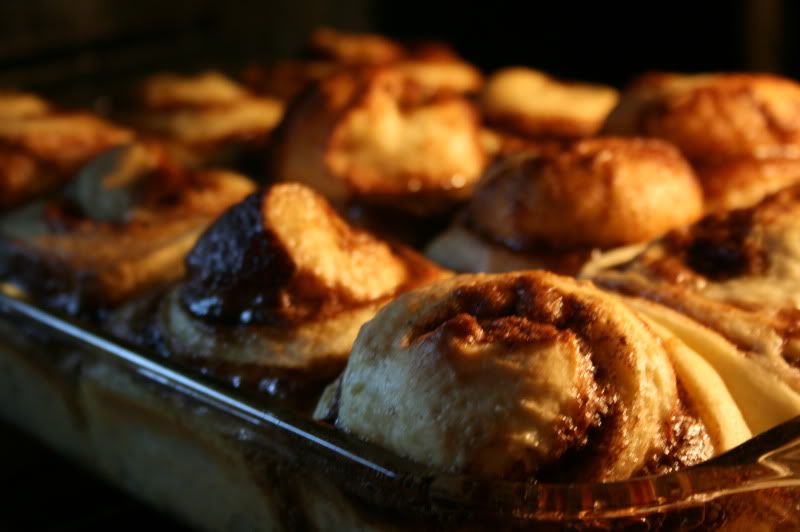 Merry Christmas 2009!!!
These are what my family woke up to for Christmas breakfast. I prepped them up to after they were rolled out and cut then put them in the fridge overnight. Took them out this morning for 1/2 hour while the oven was preheating, made the frosting while they baked and voila! Fresh cinnabon cinnamon buns!
The dough was easy to work with, rose high and produced a roll that was tender and fluffy. The frosting melted into the crevices of the roll, melding with the cinnamon sugar and creating the most decadent start to the day. Cinnabon, you've got competition!!!
Living in Canada, I've only ever had a Cinnabon once before, so I'm not sure how authentic these are, but they are damn good period. Here's the original recipe
Cinnabon from allrecipes
and my adaptation below.
I got 2 new baking books this year -
The New Best of Better Baking.com
by Marcy Goldman and
Baking
by James Peterson. The Marcy Goldman one really interests me. There seem to be a lot of good solid recipes thar don't require fancy ingredients. Something about the book just instills my confidence in her. I'm not as sure about the Peterson one. It's got tons of step by step pics and is very comprehensive, but haven't heard too much feedback about the quality of the recipes. In this style of a baking book I might be more tempted to buy
Baking with Julia
by Dorie Greenspan. It's got recipes from other famous culinary people and with those 2 big names attached to it, it's probably a surer bet. Any insights??? Lastly, I got
Mastering the Art of French Cooking
and Julie & Julia DVD.
My stocking stuffer: the coolest cookie shaped key caps! LOL my life is so totally urevolved around food.
Now I've got to get back to helping with making Christmas dinner - mashed potatoes, glazed carrots and turtle cheesecake! Hope everyone had a great day with family and friends and food!!!
Cinnabon Copycat Rolls
makes 12 | adapted from allrecipes.com
1 cup warm milk (110 degrees F)
2 eggs, room temperature
1/2 cup margarine, diced
4 1/4 cups bread flour
1 teaspoon salt
1/2 cup white sugar
2 1/2 teaspoons instant yeast
1 cup brown sugar, packed
2 1/2 tablespoons ground cinnamon
1/3 cup butter, softened
1 (8 ounce) package cream cheese, softened
1/2 cup butter, softened
3 cups confectioners' sugar
1 teaspoon vanilla extract
1/4 teaspoon salt
1.Place ingredients in the pan of the bread machine in the order recommended by the manufacturer. Select dough cycle; press Start.
2.After the dough has doubled in size turn it out onto a lightly floured surface, cover and let rest for 10 minutes. In a small bowl, combine brown sugar and cinnamon.
3.Roll dough into a 16x21 inch rectangle. Spread dough with 1/3 cup butter and sprinkle evenly with sugar/cinnamon mixture. Roll up dough and cut into 12 rolls. Place rolls in a lightly greased 9x13 inch baking pan. Cover and let rise until nearly doubled, about 30 minutes. (or refrigerate overnight and let rise 30 mins before baking the next morning).
4. Preheat oven to 375 degrees F. Bake rolls until golden brown, about 20 minutes. While rolls are baking, beat together cream cheese, butter, confectioners sugar, vanilla extract and salt. Invert baked rolls onto serving platter immediately and leave pan inverted to let the sugar/cinnamon drip back onto the buns from the pan. Spread frosting on warm rolls before serving.