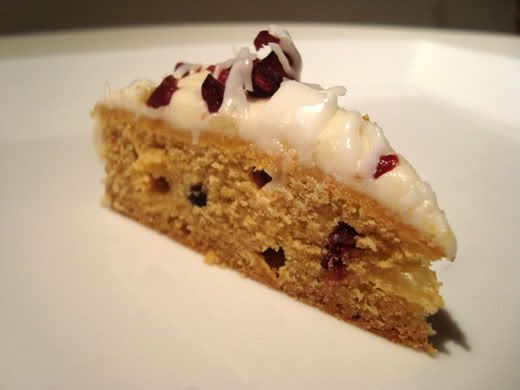 It's funny how well Starbucks has got us trained...
Frappuccinos = Summer
Pumpkin Spice Lattes = Thanksgiving
Cranberry Bliss Bars = Christmas!!!
Well, this recipe brings some of that holiday cheer into your very own home from your very own oven. Adapted from Recipezaar (#341328).
For those of you who haven't tried them in store, they are similar to a ginger-spiced blondie packed with craisins and white chocolate and covered in a dreamy slightly tangy cream cheese frosting. The bright red dried cranberries provides an eye catching contrast to the stark white frosting - excellent presentation and addition to your holiday spread.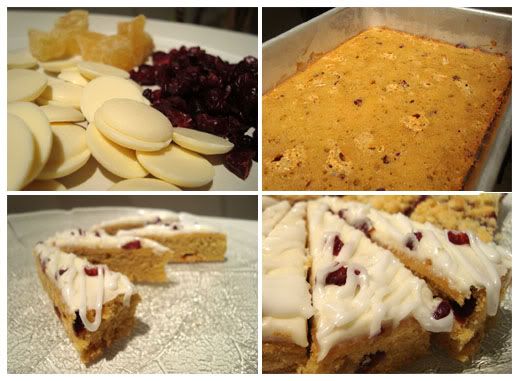 Starbucks' Cranberry Bliss Bars
9x13 pan
1 cup butter, softened
1 1/2 cups brown sugar, lightly packed
3 eggs
1 tsp vanilla extract
1 1/2 teaspoons ground ginger
1/4 teaspoon salt
1 1/2 cups all-purpose flour
1/2 cup dried cranberries, chopped
6 ounces white chocolate, small chunks
1/3 cup candied ginger, finely chopped
4 ounces cream cheese, softened
1 1/2 cups icing sugar
4 tablespoons butter, softened
1 teaspoon vanilla extract
1 tsp orange juice
1 tbsp orange zest
1/2 cup dried cranberries, finely chopped
1/4 cup white chocolate, melted for drizzling
Bars: Preheat oven to 350°F and line a 9"x13" pan with parchment paper. (You could use a 10"x15" jelly roll pan for thinner bars, just watch baking time).
Cream butter and brown sugar in electric mixer until smooth. Add eggs one at a time, but do not over mix. Add dry ingredients in small amounts, scraping down the mixer bowl occasionally. Fold in cranberries, chocolate, and candied ginger.
Spread batter over parchment on pan and bake for 30 minutes or until bars are lightly pulling away from sides of pan and are slightly firm to the touch. Cool.
Frosting: In another electric mixer, blend softened cream cheese with powdered sugar, butter, vanilla, orange juice and orange zest. Refrigerate until ready to use.
When bars are cool, spread frosting evenly on top and sprinkle with chopped dried cranberries. Drizzle with melted white chocolate and return to refrigerator or freezer to set. To serve, cut into triangle shaped pieces. Store in the refrigerator.