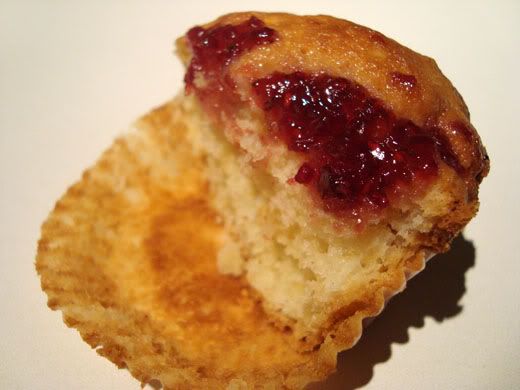 I, a little Canadian girl, survived Black Friday. LOL. I was feeling brave and adventurous last week so my mom, sis and I went down to Seattle on Thursday after work and shopped till we dropped. I could not believe the line ups at Target even just to pay. But, I got a $3 crock pot and a $20 deep fryer, so it's worth it. One line up I wouldn't stand in is at Coach. I couldn't believe it - 2x around the block! It was super fun and your adrenaline gets going and you forget you're even tired in the first place. I wish I were American, cause Black Friday rocks!
Things I want to make with my new deep fryer: donut holes, samosas, spring rolls, churros, apple or banana fritters, deep fried mars bars (do I dare?!)
OK... on to the real yummy stuff.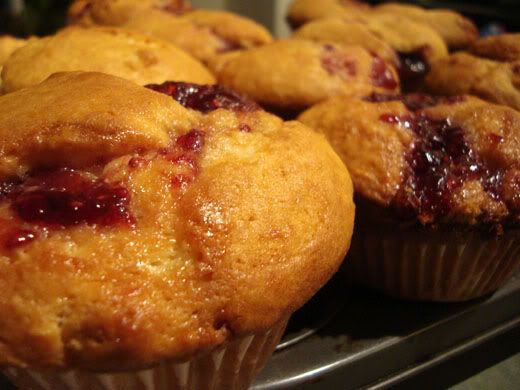 These are from the Magnolia Bakery Cookbook and are wonderfully fluffy and moist, not too sweet or heavy. The cookbook has some good recipes but a lot of duplication of recipes between this and other Magnolia recipe books. This is one of those books I'd recommend checking out of the library instead of buying. A lot of Magnolia recipes are also online. The
Magnolia Bakery
has 3 locations in New York. Dammit, I want to go to NY - all the good food is there!!! Junior's Cheesecake and Magnolia plus more! I just wonder why they call them buns and not muffins because they sure look like muffins to me! Either way, they're well worth the 5 minutes it takes to throw them together.
The book writes:
These buns have been our most popular breakfast item at the bakery since the first day we opened our doors. The flavors of the cream cheese and the preserves work really well together.
Magnolia's Raspberry Cream Cheese Buns
Makes 12
1 3/4 cups all-purpose flour
1 teaspoon baking powder
1/2 teaspoon baking soda
1/4 teaspoon salt
one 8-oz. pkg cream cheese, softened
1/2 cup (1 stick) unsalted butter, softened
1 cup sugar
2 large eggs, room temperature
1/4 cup milk
1/2 teaspoon vanilla extract
1/2 cup raspberry preserves
Preheat oven to 350 degrees. Line 12 muffin cups.
In a small bowl, combine the flour, baking powder, baking soda, and salt. Set aside.
In a large bowl, on the medium speed of an electric mixer, beat together the cream cheese, butter, and sugar until smooth, about 3 minutes. Add the eggs and beat well. Add the dry ingredients in two parts, alternating with the milk and vanilla.
Spoon the batter into the muffin cups, filling them about two-thirds full. Drop 3 small dollops (about a teaspoonful each) of raspberry preserves onto the top of each bun and, using the tip of a sharp knife, swirl the preserves into the batter, forming a decorative pattern. Bake for 25–30 minutes, or until a cake tester inserted in the center of the bun comes out clean. Allow the buns to cool for about 30 minutes before serving.