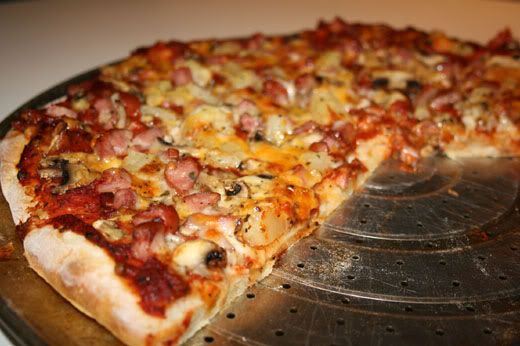 I absolutely adore the week between Christmas and New Year's. That's when all the best deals pop up and all the Christmas merchandise (and chocolates!!!) go on sale. I got boxes of Turtles chocolate for $3.49! We were all pretty exhausted from the crowds and busy malls, so this pizza was the perfect comfort food meal. Toppings were simple - hawaiian (ham, pineapple) and mushroom. The real star here was the crus.
The crust recipe comes from the Canadian Living Baking Book. Their description: "The dough for this crisp, airy crust is a dream to work, especially after 24 hours, because the gluten is relaxed and easy to roll."
This is my favorite dough and it rises so nicely in the oven. I find it to be crisp with or without a pizza stone. Sometimes I throw in a handful of herbs or parmesan cheese right into the dough for a little change.
Pizza Dough
1-1/2 lb dough for one 14" crust
3 cups flour (approx)
2 tsp quick-rising (instant) dry yeast
1 tsp salt
1-1/4 cups (120°F/50°C) water
1 tbsp extra-virgin olive oil
In bowl, combine 2-3/4 cups flour, yeast and salt. With wooden spoon, gradually stir in water and oil until ragged dough forms, using hands if necessary.
Turn out onto lightly floured surface; knead for about 8 minutes or until smooth and elastic, adding up to 1/4 cup more flour, 1 tbsp at a time, if necessary.
Place in greased bowl, turning to grease all over. Cover with plastic wrap; let rise in warm draft-free place until doubled in bulk, about 1 hour. (Make-ahead: Refrigerate unrisen dough and let rise for 24 hours. Or freeze in plastic bag for up to 1 month; let thaw and rise in refrigerator overnight.)
Additional Information
Bread Machine: Into pan of 2-lb machine, place (in order) water, oil, salt, flour and yeast. (Do not let yeast touch liquid.) Choose dough setting.